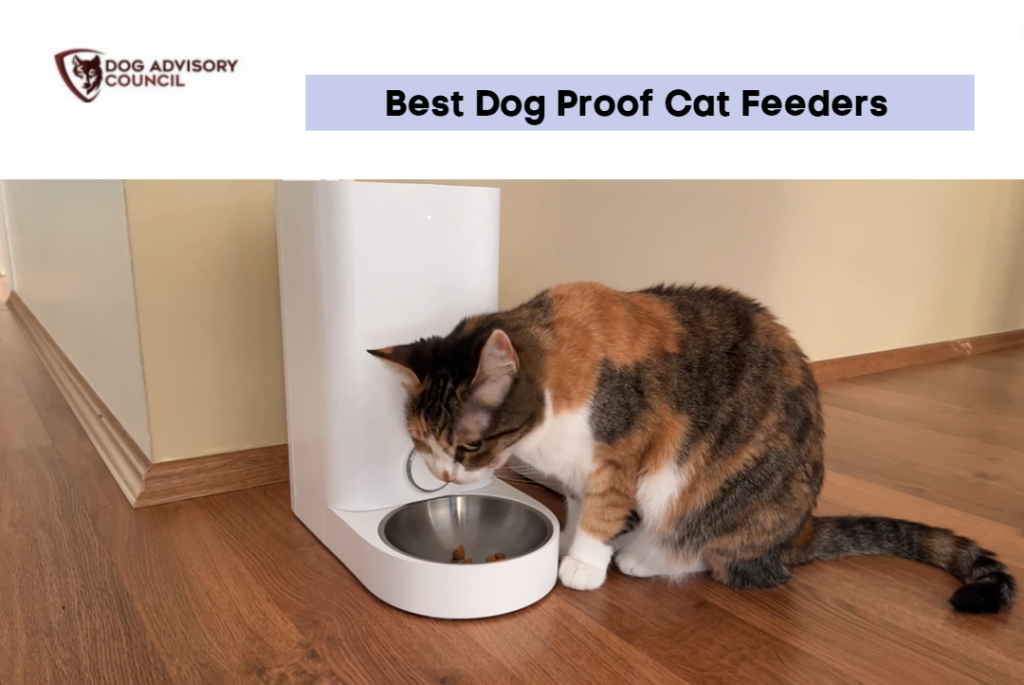 There are solid reasons to keep different kinds of pets at home. However, as the homeowner, you should ensure that each pet doesn't interfere with the other, especially at feeding time. That can be a problem when you keep, for example, cats and dogs. Without close monitoring and appropriate arrangement, feeding time can be tricky. But not so when you have the dog proof cat feeding station.
With such equipment, you won't have to be physically present to guard the cat as she feeds. Moreover, some feeders will dispense food at particular programmed hours. Below are some of the best dog proof cat feeders to consider:
Best 5 Dog Proof Cat Feeders Review
1. Felines Only – the Purrrfect Cat Dish – Veterinarian Designed Cat Feeding Bowl that Keeps Dogs Out of the Cat Food
Without using a microchip, this Purrrfect Cat Dish manages to shield dogs away from interfering with cat food. With two sized holes that only allow a cat's head, it filters out dogs from accessing the food in the container.
Using the transparent top, it permeates cats to see through the container to the visually inviting food.
Furthermore, the openings are large enough for a cat's head to go through without any problem. The Felines only dog proof cat bowl has two openings to feed two cats at ago.
Unlike the ordinary feeding bowl, this feeder is confined. Consequently, it minimizes food wastage arising from spillage. Besides it also confines cat food odors considerably. Hence even after feeding, the pet won't leave the carpet littered with food remains.
After a few days of use, you'll have to clean the feeder. Fortunately, this Felines only feeder is dishwasher safe. That makes cleaning it an easy time. And when you want to move it from one place to the other, the external carrying handle comes to your aid. Thus it's completely safe as you won't have to dip your hands into the feeding chamber.
Interestingly, it rests on the floor with unparalleled stability. The package gives you double face tape, screws and rubber pads. Thus you can rivet it to the floor thus minimize chances of tripping over and spilling over the feeds.
Pros
Easy to clean
Transparent top thus cat can see through to the food from all angles
Have minimum chances of tripping over
One container can feed two cats
Cons
Unfortunately, the cover isn't airtight
Who is it for?
If you need the cat feeder that doesn't use any microchip, tag, or battery yet keeps big dogs away then, Felines Only – the Purrrfect Cat Dish is a good choice. Moreover, it is highly portable considering its lightweight of 1.8lbs.
2. SureFeed Microchip Pet Feeder
From the comfort of your smartphone, the microchip pet feeder allows you to monitor the feeding pattern of your feline friends. Apart from being the best cat feeder that keeps dogs out, it makes it possible to determine the exact amount of food a pet consumes. That is possible due to the use of SurePet app through the provided hub and LED lights in the unit.
The SureFeed Microchip Pet Feeder uses microchip technology. That can either be included in an RFID collar tag or micro-chipped by a professional into the cat's body. Thus when that particular cat with the microchip comes close to the feeding station, the lid opens and she can then feed on the food. Thus dogs and other cats are kept away.
Besides using the cat feeder you can set a particular amount of food to feed your cat every day (accurate to 1gram degree). With the help of the app, you can know when the pet last ate food, how much she consumed and how much food is remaining.
The dog proof cat feeder box has a bowl apportioned in sections. Therefore you can fill the feeder with both dry and wet food. The package also includes a silicone mat, two color-coded polypropylene bowls. The cat feeder runs on four size C batteries. Since it economizes batteries, a set of four batteries will run the unit for six months. And when the battery goes low, the unit gives a warning before switching off. That gives you enough time to organize how to repower the unit in time.
Pros
Tracking the feeding pattern of a pet is then easier
Feeding a cat with a particular quantity of food daily is possible
Rules out the possibility of overfeeding a pet
Sends notification on the amount of food eaten each time
Uses the commonly available batteries; size C
Cons
For the homeowner with several cats, it is expensive to buy a dog-proof cat bowl for each pet.
Who is it for?
If you own one or two cats and wish to track their feeding pattern, and thus know what each cat has consumed, then SureFeed Microchip Pet Feeder is a good dog proof cat feeding station to consider.
3. Pioneer Pet SmartCat Tiger Diner Cat Feeder
If your pet has the problem of eating hurriedly and thus suffering indigestion, then consider having the Pioneer Pet SmartCat Tiger Diner Cat Feeder. Besides being dog proof, it is designed to regulate a cat's feeding rate at a slow pace.
Using the funnel-like shape, the cat feeder provides easy loading of food from the top position. After the loading, the feeder automatically distributes the food to the right position. With the food dispersed, dogs can't access the food through the small holes. Even a cat has to use its paws to fetch out the food bit by bit.
That method injects the mental and physical stimulation into feeding time. The lip-like structures also add to make pawing out food even more challenging. When filled with food, the cat feeding station can server about two cats with food. Its overall size measures 8.2 x 8.2 x 3 inches.
From the physical outlook, the feeding bowl looks neat. Made of strong ceramic material the bowl has a weight of 3 pounds and thus not easy to topple over by a cat. Even though it has an irregular shape, it is dishwasher safe. To increase its stability and stop moving around, place the feeder on a ridged mat.
Pros
One Pioneer Pet SmartCat Tiger Diner Cat Feeder can serve multiple cats
Dishwasher safe
Automatically slows down the eating pace of a cat
Keeps cat food away from the dog
Minimizes the chances of a cat vomiting soon after feeding
Induces physical and mental stimulation
Cons
Has no cover and thus the food is left to the air
It isn't suitable for serving wet food.
Who is it for?
If your cat is overweight or suffers stomach bloating frequently, this feeder could be your best gift for her. It will slow down the cat to eat at a normal healthy pace and thus promotes digestion. That also helps to minimize the chances of gulping the food too fast and thus discouraging overfeeding.
4. OurPets Wonder Bowl Selective Pet Feeder
When you have multiple pets, it's important to ensure that each pet consumes just the right amount of food. Because some cats may generally be timid or weaker than the others, chances are high that they will always suffer at feeding time. But that's where OurPets Wonder Bowl Selective Pet Feeder comes in.
The cat food dish that keeps dogs out employs the tag and infrared technology. The food will remain closed in the bowl unless a particular tag comes closer to the bowl. The equipment uses infrared sensor technology to detect when the pet is close by. Thus only the cat or pet with that tag will gain access to the food.
Since its lid always remains closed, this wonder bowl keeps food fresh for a longer period. In addition, with the food locked, even flies are kept at bay. Unlike the ordinary bowls that are plastic, the wonder bowl keeps the food in the tidy stainless steel dish. Moreover, the dish is removable for easy cleaning in the dishwasher.
In terms of capacity, one bowl will hold one and a half cups of food. The unit is powered by 3 size D batteries that can last for about 43 days. Its wide base design and the weight of 2lbs give it the good grip of the ground thus preventing unnecessary movement or toppling over.
Both the base of the bowl and the tag are waterproof. Thus even an accidental spillage of water to the tag won't hinder its operation. The wonder bowl feeder tag runs from the CR2032 battery. When the battery level goes down, it gives you the low power indicator by a red flashing light. However one battery will power the tag for about 30 days, thus you won't have to worry about constant battery replacement.
Pros
Battery efficient; no constant replacement
Waterproof tag
High level of hygiene; stainless steel bowl and the normally closed lid
The wonder bowl runs on either batteries or wall socket via a power adapter
Cons
The power adaptor is sold separately
Who is it for?
This wonder bowl is ideal for the homeowner who keeps several pets. It makes it easy to feed a particular pet on a special diet. Moreover, it is battery efficient. If your dog or kids always mess with the cat food, then this is the right cat feeder to go for.
5. The Kitty Pass Interior Cat Door Hidden Litter Box Pet Door for cats up to 21 lbs
One way to prevent a dog from accessing the cat food is to provide a passage that allows only the cat. That is especially easy when you have an extra room. One way to accomplish that is to use the kitty pass. By cutting just a small passage and fitting the kitty pass, you establish an easy way for the cat to reach its food any time she wishes to do so.
The kitty pass provides a safe way through since it employs no screws or nails. It provides a passage 7.5 inches wide and 6.5 inches in height. Therefore it will happily accommodate even bigger cats that weigh 20lbs. in addition; it can fit most doors that have a thickness of either 1.25 to 1.75 thickness.
The composite PVC Kitty pass is easy to fit since you don't require any screw or nails to attach it to a door. Besides, when you fit it to a door, it has the dazzling semi-gloss white appearance that easily blends to most doors. In addition, you can repaint it to reflect the color of the room where it is used.
Pros
It's simple to install, takes only 15 to 20 minutes
Feels smooth and has no protruding screws or holes that can scratch the cat
Provides large a passage to suit small, medium or large pets
Cons
It shields only large dogs
It forces to cut through your door
Who is it for?
This kitty pass is ideal for a pet owner looking for a simple and budget-friendly dog proof cat feeding room. It's convenient if you want to block a large dog from accessing a cat's food. The provision gives your pet access to its food at any time.
Choosing the Best Dog Proof Cat Feeder
To get the best dog proof cat feeder, you need to shop wisely with a few points in mind. Here are a few questions to ponder about:
How many pets do you want to feed?
The size of the feeder should match the number of pets you have at home. For example, there are feeders that can support even three cats at ago, or two or even one. For example, the Pioneer Pet SmartCat Tiger Diner Cat Feeder can allow more than one cat to feed at the same time. On the other hand other feeders like the Automatic Pet Feeder – Wireless Whiskers AutoDiet Pet can feed many pets but one at a time.
What is the size of the pet or the dog that you wish to block?
Other feeding stations provide a small hole through which to access the food. Other still provides only a small passage enough for a cat to go through and enjoy the meal. So consider the size of the hole and compare it to the animal you wish to deny entrance. Is it a full-size dog or just a puppy?
At the same time, some feeders require the pet to put on a tag or a collar. Your pet's size will help you know the bets tag length or size to buy. Moreover, some cats aren't friendly to tags hanging around their necks.
Is your pet on a special diet?
For pets that are on a special diet or medication, only particular feeders may work. For example, you may have a cat on a weight loss diet or special medication. On such a case you may need a feeder that you can program to dispense food at certain intervals. At the same time, you would want to ensure that only that particular pet consumes the food.
Does it require a power source?
Some feeding stations require wall sockets or batteries. Before making your shopping, evaluate if the power required by the equipment is readily available or not. And in case the mains electricity fails, does it have a power back up provision or would it mean your pet goes hungry?
Do you need to track your pet's feeding habits?
Sometimes you may wish to keep check of your cat's feeding habit. For example that may help you detect early enough when the pet is ill or develop some health problems. Consequently, then go for feeders that allow you to weigh the quantity to dish out and also give you feedback on the amount of food consumed.
Conclusion
With the right dog proof cat feeding bowl, your pets won't have to fight over each other's food. Help your pet to know her feeding bowl. Whether you are away or late from work, with the right pet feeder their meals are never late. With the above pet feeders, you can help your cat and dog co-exist.
We know that is a blog site dedicated to dogs, however, some of us dog lovers also have cats at home.