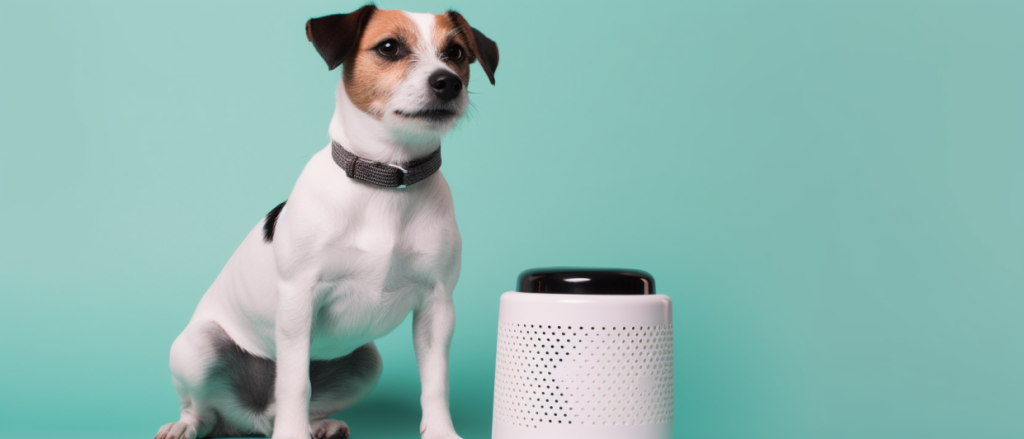 In a world that spoils us for options, finding a good purifier is like a breath of fresh air, in the literal sense! It is undeniably true that living with a pet is a life-changing experience that every animal-loving human deserves. Allergies, in our opinion, do not qualify as a good enough reason to devoid ourselves of these angelic beings. Hence, pet-friendly air purifiers! A good air purifier is an investment in health and well-being. Read on for our recommendations
Things to look out for while selecting a pet-friendly air purifier
The air we breathe is affected by a variety of factors; some of them being the city that we live in, the air quality index of the city, the weather outside, activities happening outside the house/ building (construction, factory environment, etc), activities happening in and around the house like cooking, fumes from the car, lawn mower, etc.
In this article, however, we will focus on the air quality of a home with pets. Several pet owners who suffer from allergy symptoms like red eyes and stuffy noses due to pet-related allergens may want to consider a suitable home air purifier to limit their exposure to pet dander and other allergens.
Suitability for allergy sufferers
Environmental Protection Agency (EPA) has found that air purifiers are 'somewhat effective' in reducing allergy and/or asthma symptoms in people who are allergic to pets. Although, the difference may be modest. A 2009 study found a slight improvement in bronchial sensitivity in children with asthma who used an air cleaner with a HEPA filter.
Make sure to narrow down the causes of allergies and invest in an air purifier accordingly.
Suitability for pet odor
If you have cats and cat litter or are in the process of potty training your pet, your primary agenda might be eliminating pet smells. In this case, you might want to purchase an air purifier with a technology specifically designed to eliminate odors. Air purifiers that use activated carbon to capture air molecules that cause odors are proven to perform better than purifiers with HEPA filters.
Noise levels
Several pets and even people may be sensitive to loud noises and may prefer a low-key air purifier that doesn't make as much noise. Moreover, if your air purifier is going to do its job while you're sound asleep, a quieter option is the way to go.
Size of the house
Every air purifier comes with a certain area coverage capacity. Depending on the size of your house and the number of hours you intend to keep the purifier running, invest in a good one accordingly.
Number of pets and shedding level
The needs of a family living with 2 Huskies will be different than one living with a non-shedding Labradoodle, but obviously! While most air purifiers focus only on allergen elements like dust, odor, and dander, there are newer and more advanced options in the market today that focus on getting rid of pet hair too (to an extent).
Depending on your needs and your allergies, invest in an air purifier that is equipped to clean your air optimally.
Here is a comparison table listing 10 pet-friendly air purifiers
| | |
| --- | --- |
| Top 3 Features | -The purifier has smart capabilities with a user-friendly, Wi-Fi enabled app – The top of this purifier oscillates to evenly move air and clean it -Backwards airflow mode allows you to use the purifier alone without a cooling effect as well. |
| | |
| --- | --- |
| Top 3 Features | -Quiet enough to not disturb your night's sleep but powerful enough to clean a room full of air -Great portable option and can be easily moved from room to room – Has an option to add essential oil drops to the aromatherapy pad in this purifier to get rid of unwanted smells and soothe your senses |
| | |
| --- | --- |
| Top 3 Features | – Crafted with four filters that last 3000 hours and a filter status indicator -Comes with a variety of modes and three speeds – two standard and one custom -Also comes with a child lock, automated fan mode, a filter health indicator, and an adjustable timer |
| | |
| --- | --- |
| Top 3 Features | -Activated Carbon Filter Quickly captures Smoke, Allergens, Dust, Pollen and neutralizes Bad Smells, Pet Odor and VOC -User friendly design with sleep mode, timer, child lock, fan speed modes all with energy saving – The upgraded filter has added OdallerPure technology to optimize the structure and content of activated carbon |
| | |
| --- | --- |
| Top 3 Features | -It is an ideal air purifier for large rooms and open-concept spaces -It has a laser smart sensor that detects airborne particles and self-adjusts to better filter air. – Features a color-coded air quality sensor light and available in various colors and finishes |
Top 3 Features
-The Slim and sleek design is great for smaller spaces and can easily be stored out of the way in your home – The installed carbon filter removes odors from the air, and the UV light eliminates mold, bacteria, and viruses -The air quality sensor automatically turns on the purifier when it senses change in air quality
Blueair Blue Pure 211+ air purifier 316.99 USD
4.7/5 Stars
2592 sq ft
Low
HEPA and Carbon filter
| | |
| --- | --- |
| Top 3 Features | -No hassle of adjusting settings and knobs – a single button controls it all and lets you know when it's time to replace the filter -With materials like galvanized steel and recyclable plastics, the product is not only energy saving, but also highly sustainable -It has a machine washable pre-filters which are suitable for larger rooms |
| | |
| --- | --- |
| Top 3 Features | -An excellent option for pet owners as it removes 99.97% of harmful particles including allergens, odors, VOCs, smoke, pollen, pet dander, dust, smog, contaminants, and more down to 0.3 microns in size -At Sleep mode, the air purifier runs at a min noise level of 23dB and completely dims the unit's panel lights -Carbon filter contains activated Coconut Charcoal carbon engineered to capture gases and even volatile organic compounds |
| | |
| --- | --- |
| Top 3 Features | -Unlike traditional air purifiers, TruSense can detect air quality in the room and take action -Apart from capturing airborne viruses, allergens, and certain VOC gases, this filter also has an Ultraviolet light (UV-C) that kills germs and bacteria trapped in the filter – PureDirect proprietary technology splits clean air into two air streams, delivering purified air more comfortably and efficiently throughout the room. It is proven to be up to 24% more efficient than traditional air purifiers with vertical airflow |
| | | | | |
| --- | --- | --- | --- | --- |
| BISSELL MYair Air Purifier | 4.7/5 Stars | 427 sq ft | Low | 3-in-1 filter includes pre-filter layer and a combination of an activated carbon and high efficiency filter |
| | |
| --- | --- |
| Top 3 Features | – Operates at a whisper-quiet level to contribute to a peaceful sleeping environment. -The 3-in-1 filter makes this air purifier amazing for pet odour and allergens -Portable and light weight design |
Our review
Best overall
We like the Dyson – Purifier Cool – TP07 – Smart Air Purifier and Fan as the overall best pet-friendly Air purifier.
Pros
Modern and sleek design that can fit in a wide variety of spaces
The fan oscillates for effective and all-round air purification
It is relatively quiet. Even on the highest setting, it sounds like a fan on low
It quickly clears the fine and particulate matter
Dyson, as a brand is reputed for its home cleaning technology
Noticeable difference in air cleanliness in a matter of 5-10 minutes
The purifier automatically senses changes in air quality and reacts to best clean the air, and then reports changes directly to the linked app and the control panel
Backward airflow mode allows you to use the purifier alone without a cooling effect as well
Excellent value for money
Cons
On the pricier side
the panels that cover the air filters can be tricky to reattach after cleaning
Best budget-friendly
We like the LEVOIT air purifier as the most budget-friendly option
Pros
Very budget friendly with simple, intuitive features
Super lightweight and portable
It has a simple and a sleek design
It is relatively quiet and reaches 58 DB at its highest setting
powerful enough to clear a room of harmful particulates in just 10 minutes
Easy to operate with just one button for 3 different settings
Comes with an option to add essential oil drops to the aromatherapy pad in this purifier
Cons
Comes with a very short cord
Best for odors
To rid your home of the strong pet odor, we recommend buying Bissell MyAir Personal Air Purifier
Pros
Sleep mode has a lower fan speed for reduced noise with an ultra-quiet opration
The night light can be turned on or off
The 3-in-1 filter not only removes all the unwanted pollutants and particles from the air, but the carbon filter also amazingly gets rid of pet odor
It moves the air five times every hour, ensuring quality
Cons
No HEPA filtration
Covers a relatively smaller area for the price
The filter is not washable
Best for allergies
We like the Alen BreatheSmart Classic Large Room Air Purifier to get rid of elements causing pet allergies such as dust and dander
Pros
While most air purifiers work on pet dander only, the Alen Breathesmart Classic claims to also filter out pet fur from the air
Designed by NASA airflow engineers, it boasts a modern, high-quality design
Its HEPA filtration removes 99.99 percent of airborne particles larger than 0.1 microns (most air purifiers only remove particles larger than 0.3 microns)
The purifier has excellent coverage of 1100 sq ft at a speed of 30 minutes
It is available in various colors and finishes to match a wide variety of home aesthetics and interiors
Cons
On the pricier side
The machine is large
Produces more noise than expected at higher speeds
The best place to keep the air purifier is as close to the pollutant as possible. Consider placing it near your pet's crate or bed or their favorite hangout spot in the house. Last but not the least, always follow the instructions in the owner's manual for your specific air purifier. It will help you replace and clean filters, set it up in the most optimal way and maintain it to the best of your ability.