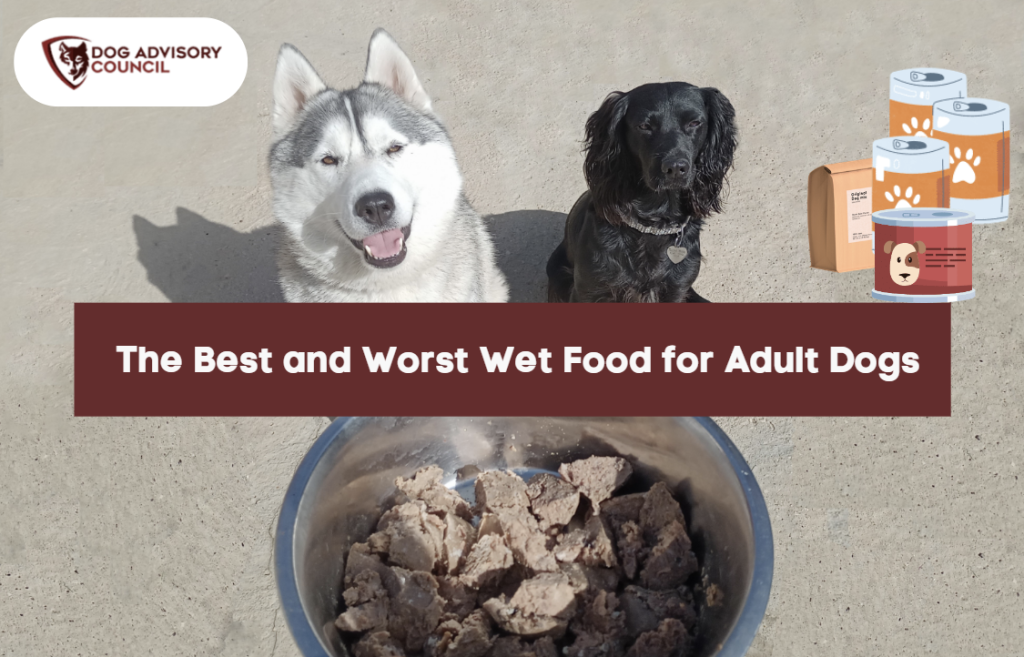 The wet dog food market produces a lot of revenue for dog food manufacturers. In this guide to the best and worst wet foods to feed your adult dog, you will not only learn if a food is the best or worst but top tips to save you money. Also included is how to avoid scams and tricks dog food manufacturers try to pull.
Why feed wet food over dry kibble?
Wet food can be better for your dog than feeding kibble as it contains fewer carbohydrates, which they don't really need in their diet and can be difficult for dogs to digest. You will find carbohydrates in kibble as a filler, especially in cheap dog food. Carbohydrates help to bond the ingredients together in kibble. Wet food, by its nature, doesn't need to be bonding.
What are the advantages of wet food over kibble?
For overweight canines, the extra water content in wet canned food makes them feel fuller and makes the weight easier to lose.
It is more palatable. If your dog is a fussy eater, he may prefer the taste and consistency of canned wet food over dry kibble.
It doesn't require chewing, making it better for old dogs, especially those with lost teeth.
It is more natural looking than kibble. Some tinned recipes look just like a home-cooked stew that you might make for yourself.
It is fresher; you open a new tin most days, whereas a bag of kibble could be open for six weeks or more.
Fat and oils in kibble can go rancid over time, and the food can go stale or grow bacteria and other harmful organisms.
It is easy to add medication or vitamin pills to wet food.
What Are the Disadvantages of Wet Dog Food?
Wet food is more expensive compared to dry food.
Tinned food contains a lot of water, which you pay for. A typical canned food contains up to 80% moisture, compared to 10% dry with dry kibble.
Wet food needs eating soon after it is put in your dog's bowl. If your dog turns his nose up at it, you can't serve it again tomorrow, like you can with kibble.
Dry food is better for dogs' teeth and can have a cleaning action when they are chewing. Wet food sticks to teeth, so you need to clean them.
How can you tell if the wet food is any good?
Like with all dog food, you can tell if wet food is any good by reading the list of ingredients on the back of the label. The first ingredient should be a named meat. That means it should say "fresh beef, chicken, salmon, etc." Avoid any food that uses the term " made with the sub-products of animals". Sub-products of animals are the leftovers after a carcass has been processed for human consumption and look nothing like what meat should do.
Watch for filler ingredients like corn, wheat, maize, soy, rice, potatoes, and peas.
Make sure you choose a food that doesn't have water or soup as the first ingredient.
Best Wet Foods for Adult Dogs
I had intended to compile a list of the best wet foods with and without grain. Instead, this has ended up as a list of grain-free wet foods. The reason for that is that the quality of food that includes grains tends to be very low. The first ingredient is nearly always water, and the meat content tends to include sub-products of animals. I have listed the wet foods which the best standards in price order, starting with the lowest. The prices aren't listed as they change frequently. You can check the current price on Amazon by clicking on the links. The Amazon website is helpful as it lists the price per pound of each can of food, making it easy to compare the prices of different sized tins.
Purina Beyond Grain Free, Natural, Adult Ground Entrée Wet Dog Food
Ingredients: Beef (21%), chicken, beef broth, liver, potatoes, green beans, guar gum, salt, carrageenan, MINERALS
Moisture content is 80%, crude protein is 10.5%, and oils and fats are 5.6%.
Feed 1 can for every 15 to 18 pounds of body weight.
I can't believe that Purina wet food made it onto my list. Purina makes a vast range of products to suit a variety of budgets. Although the value ranges aren't a lot of good, the Beyond Grain Free range has excellent ingredients for an economical price. That is an economical price compared to other grain-free foods. They also make an organic version of this food. Should you care about feeding organic ingredients and want to pay a little extra.
Pros
It is good value for money.
The first ingredient is real chicken raised without steroids or hormones.
It contains no corn, wheat, or soy.
It contains no artificial colors, preservatives, or flavors.
Grain-free with added carrots and peas.
Cons
Amazon gives it four and a half stars.
I chose this as it is the most nutrient-rich food I could find for my Pomeranians. My picky eater loves it, and I was surprised at how nice this food looks. My dogs love it, and it is excellent quality.

Customer Review
Top Tip
A trick dog food manufacturers use to try to fool you into thinking that the food you are buying is not full of water is to word the ingredients in a way that confuses you. When reading the ingredient lists, watch out for listings like this one;
Ingredients: Beef and liver: water, liver, peas.
At first glance, this looks as though the first ingredient is beef and liver. But look closely, and you will see that there isn't a comma after the words beef and liver. It is a colon. What it actually says is that this is the ingredient list for the beef and liver variety. Read properly, and you can see that the first ingredient is water.
---
Rachael Ray Nutrish Zero Grain Real Chicken & Apple Recipe Wet Dog Food
This grain-free food is made with real chicken and is another good value grain-free food to feed your dog. It is only a little more expensive than the Purina Beyond Grain Free.
Ingredients: Chicken, Chicken Broth, Chicken Liver, Apples, Peas, Carrots, Salt.
It contains 8% protein, 6% fat, 2% fiber, and 78% moisture.
Feed one tin for every 15 pounds of body weight.
Pros
Made with real chicken.
Grain-free recipe
It comes in lots of flavors.
It is made with real vegetables, that you can see.
Premium pate consistency.
No artificial preservatives or flavors.
Cons
There are 857 reviews on Amazon, seven of which reported that it made their dog sick.
Amazon gives it 4 out of 5 stars.
Amazon Reviews Round-up
My picky dog loves it. I like that some recipes are without chicken, as I have a dog that is allergic to chicken. It looks great when you open the tin.

Customer Review
Top Tip
Warm up dog food in the microwave for a few seconds to bring it up to room temperature and make it smell and taste more appetizing for your pet. Do not overheat, as your dog could burn his mouth and you risk destroying essential nutrients.
---
Taste of the Wild High Protein Real Meat Grain-Free Recipes Wet Canned Dog Food South West Canyon
Taste of the Wild High Protein Real Meat Grain-Free Recipes
Taste of the Wild Southwest Canyon with BEEF in gravy canned dog food; REAL BEEF is the #1 ingredient; a unique and flavorful blend of proteins — including wild boar — helps support bones, joints and LEAN, STRONG MUSCLES
Nutrient-rich and provides the energy to thrive; vitamins and minerals from FRUITS and SUPERFOODS; omega fatty acids for healthy SKIN and COAT
(Other varieties are available.)
Taste of the Wild is a slightly more expensive grain-free food manufactured in the USA with premium ingredients.
Ingredients Beef, beef broth, lamb broth, vegetable broth, beef liver, dried egg whites, peas, dried egg products, lamb, potato starch, wild boar, guar gum, sunflower oil, chickpeas, natural flavor, tricalcium phosphate, sodium phosphate, salt, calcium carbonate, potassium chloride, inulin, tomatoes, sweet potatoes, blueberries, raspberries, taurine, choline chloride, flaxseed oil, yucca schidigera extract, zinc amino acid chelate, iron amino acid chelate, menhaden fish oil (preserved with mixed tocopherols)
It contains protein at 7.5%, crude fat at 3.5%, fiber at 0.5%, and moisture at 80%.
One can for a ten-pound dog and two cans for a 25-pound dog.
Pros
Made at a factory in the USA.
The first ingredient is real beef.
It has a grain-free recipe with no added corn, wheat, or cereals.
Vegetables and fruit provide vitamins and minerals.
Cons
Amazon gives it four and a half stars.
Review Roundup
It has done wonders for our dachshund's sensitive stomach and skin. My dog has stopped having seizures since eating it and loves it.
Top Tip: Mix It Up.
There is no reason why you can't feed your dog a mixed diet. Your dog could have kibble for one meal and wet food for the next, or you could even use the wet food as a topper on the kibble to encourage your dog to eat. Using canned food as a topper or mixing it in with dry kibble is a good way of reducing the cost of feeding canned food.
---
Merrick Grain Free Canned Wet Dog Food Real Meat Recipe Texas Real Beef Dinner
This premium quality wet dog food is made with real deboned beef as the first ingredient. It obtains 96% of its ingredients from beef sources.
Ingredients: Deboned beef, beef liver, beef broth, dried egg product, natural flavor, salmon oil, salt, locust bean gum, potassium chloride, guar gum, calcium carbonate, minerals.
It has 9% protein, 5% fat, 1.4% fiber, and 78% moisture.
1094 kcal/kg or 393 kcal/13.2 oz can
Feed one can for every 10 pounds of body weight.
Pros
Made with real USDA-inspected beef as the first ingredient.
Pate formulated wet dog food.
It contains 96% beef ingredients.
Grain-free formula
It contains no artificial colors, preservatives, or additives.
It contains no by-products of animals.
Cons
Amazon gives it 4.6 stars.
This is the only wet food my dogs will eat. It doesn't stink like the other foods I have tried, and I don't have to scrape the fat off the top. It's worth every penny.

Customer Review
Top Tip – Safety First
Ensure that you use an open tin within two or three days, as specified on the label. If you keep a can of food in the fridge for longer than the recommended time, you risk giving your dog food poisoning, which leads to vomiting and diarrhea.
---
Wellness CORE 95% Grain Free Wet Dog Food, High Protein Dog Food
Wellness CORE 95% Natural Wet Grain Free Canned Dog Food, Beef & Carrots,12.5-Ounce Can (Pack of 12)
HIGH-PROTEIN & GRAIN-FREE WET DOG FOOD: Protein-rich CORE 95 delivers the meat that your dog craves with the premium ingredients, vitamins, and minerals your pup needs to thrive. This canned wet food can be served as a complete and balanced meal, or as a meal mixer/topper.
BEEF & CARROT PATE: This natural, grain-free recipe features real beef with carrots for complete, balanced nutrition. Pate is completely smooth for an irresistible taste your dog will love.
This premium dog food is made in Canada with 95% beef and carrots as the main ingredients. It is formulated to give your dog lean body mass and toned muscles.
Ingredients: 95% beef (66% [heart, meat, liver, lungs], 29% beef broth), 3.5% carrots, 1% minerals, 0.5% sunflower oil.
Protein content is 11.3%, fat content is 7.3%, crude fiber content is 0.4%, and moisture content is 72.0%.
1–1.5 cans per 15 pounds of body weight per day
Pros
It contains 95% beef products.
It is high in protein.
It has a grain-free formula.
Made in Canada.
It contains no meat by-products.
Cons
The 95% it advertises on the can isn't all beef muscle meat. I have used the ingredients translated from a Spanish website because it says exactly what that 95% consists of.
Expensive
Amazon gives it 4.5 stars.
My finicky dog is back to eating again and loves this. It is expensive but great if your dog needs a low-carbohydrate diet. It cured my dog's grain allergies.

Customer Review
WATCH OUT: Food Manufacturers' Con
Amazon lists the prices per pound for each type of dog food, so you can easily compare prices. Be wary if you see a food item priced in ounces rather than pounds. This seems to be a common trick with food packaged in trays aimed at small dogs or with the more expensive brands. There are 16 ounces in a pound. Calculate the price properly, and then compare. Don't fall for these manufacturers' tricks.
---
ACANA Grain-Free Premium Chunks Beef Recipe in Bone Broth Wet Dog Food
This premium wet food from Acana consists of chunks of beef in a beef and lamb bone broth and is 85% meat ingredients. Bone broth is famous for its health benefits. The beef is prepared from fresh meat to give your dog the best diet, packed with nutrients. This food is expensive, but it makes a great meal topper for dry kibble.
Ingredients: Beef, beef bone broth, lamb broth, sweet potatoes, beef liver, cranberries, carrots, bison, spinach, dried egg whites, dried egg products, natural flavor, organic guar gum, pumpkin, sodium phosphate, potassium chloride, salt, minerals
919 kcal/kg, 334 kcal/can (12.8 oz, 363 g)
Feed one-third to three-quarters of a can per 10 pounds of body weight.
Pros
It contains 85% premium animal ingredients.
It contains 15 % fruit and vegetable ingredients.
It is in a sauce of bone broth.
It is grain-free, with no added wheat, soy, or corn.
Cons
Small Dog Wet Food.
There is no reason why a small dog can't eat the dog food brands listed above. The only reason you might want to consider buying a small tray of food for your little dog is to keep it fresher for longer. The average size of a tin is 12 ounces, so even a tiny dog should be able to eat it all within two days. The trays of food marketed towards small dogs tend to come with an extortionately premium price. One of the better brands is listed below if you feel you really want to pay the extra money.
---
Instinct Small Breed Dog Food, Original Recipe Grain Free Wet Dog Food Canned
They claim this is the closest thing to feeding your small dog a raw diet, although this is a cooked menu. It is specially formulated for little dogs and made with real meat, vegetables, and fruit.
Ingredients: Chicken, Chicken Broth, Chicken Liver, Cod, Peas, Eggs, Pea Fiber, Ground Flaxseed, Montmorillonite Clay, Guar Gum, Salt, Potassium Chloride, Dried Kelp, Cassia Gum, Xanthan Gum, Minerals, vitamins, artichokes, cranberries, pumpkin, tomatoes, blueberries, broccoli, cabbage, kale, and parsley.
8.5% protein, 4.5% fat, 3% fiber, and 78% moisture.
Calories in a can: 88 kcal/5.5 oz.
Pros
Made with
real chicken and liver.
It is formulated especially for small dogs.
Grain-free and without potatoes, wheat, soy, or corn.
Free of artificial preservatives and colors.
It is made in the USA with the world's finest ingredients.
Cons
Amazon rating 4.5 stars.
We are now using the smaller cans of Instinct for our dog. It is expensive, but the big can turn gray in the fridge after two days. This food looks like quality and doesn't sloop in the tin. My senior Shih Tzu loves this food as he has a sensitive tummy.

Customer Review
Top Tips For Small Dogs.
Instead of paying more than double the price per pound for little containers of dog food, buy the large tin and freeze it into small portions. The dog food manufacturer, Hills, tells you that you can't freeze wet food on their website, but it is generally agreed across the internet that you can if you put it into a ziplock bag or plastic container first. Do not freeze the tin, or it may explode.
---
Latest Articles
---
The Worst Brands of Wet Food
The worst wet food brands have water or soup as their first ingredient and were rejected from the list of best wet foods to feed your dog. They are listed here to save you time researching them yourself.
Hill's Science Diet Wet Dog Food, Adult, Sensitive Stomach
Rejected asithas got broth as the first ingredient.
Hill's Prescription Diet I/D Digestive Care
Rejected as it has water as the first ingredient.
Nature's Recipe Easy to Digest Wet Dog Food
Rejected as water is the first ingredient.
Purina ONE Smart Blend True Instinct Adult Canned Wet Dog Food
Rejected as broth is the first ingredient.
Purina Pro Plan Veterinary Diets HA Hydrolyzed Chicken Flavor Wet Dog Food
Rejected for having water as the first ingredient.
Iams ProActive Health Classic Ground with Chicken & Whole Grain Rice Adult Wet Dog Food
Rejected for having sub-products of animals in its ingredients.
Pedigree Choice Cuts in Gravy
Rejected as has meat by-products in the ingredients.
Pedigree Chopped Ground Dinner
Rejected as has meat by-products in the ingredients.
Comparing Wet Food to Dry Kibble.
It is hard to compare wet dog food to dry kibble as the nutrients become diluted in the liquid of wet food. A tin of wet dog food might show only 5% protein compared with 30% for a grain-free dog kibble, but if you take out all the liquid, they will end up similar. A tin of wet dog food is typically around 80% moisture, compared with 10% in dry food.
For the same reasons, it is difficult to compare the price per pound of weight. The best way to compare the price between wet food and dry kibble is to calculate the amount you need to feed per day of your favorite brands. Then work out how much that will cost. You can then compare the amount of protein, fat, fiber etcetera, that is in your dog's daily ration for both types of food.
Conclusion
Feed the best food you can afford. You pay for what you get when buying dog food of any kind. Don't just reach for the cheapest can on the supermarket shelf. It is pretty much guaranteed to be full of water, contain very little meat, and what there is will be from sub-products of animals. Quality products save money in the long run by reducing the likelihood of large vet bills caused by feeding rubbish food. Feeding your dog cheap food can result in allergies, ear infections, and cancer. Food with good-quality ingredients helps ensure your dog lives a long and healthy life.
Consult your vet before changing your dog's diet, especially if he has a health condition.