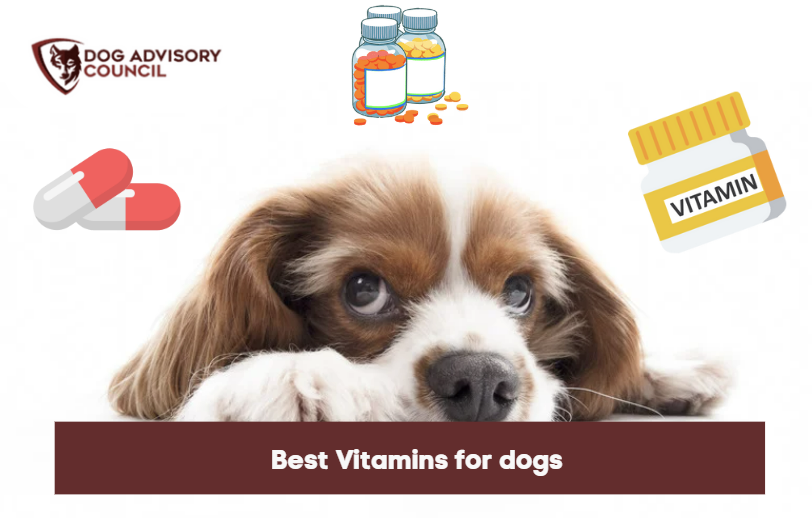 A dog needs holistic nutrition from their food with ample carbohydrates, fats, proteins, vitamins, and minerals to live a happy and healthy life.
However, it can be tricky to figure out if they're getting everything they need from their meals. Knowing the signs and symptoms of vitamin deficiencies in dogs and investing in the right supplements can ensure your dog is receiving everything they need to thrive.
The role of vitamins in a balanced diet
The eating habits we set our dogs up for can mean the difference between a long and healthy life and a poor quality of life with frequent rounds to the vet. Vitamins that are tailored to a dog's individual needs are considered to be a significant aspect of canine nutritional needs at every stage of their life. Vitamins ease the transition from puppyhood to an adult canine companion, all the way to seniority.
They have a plethora of benefits, including but not limited to –
Fighting diseases
Increasing energy levels
Promoting healthy skin and coat
Strengthening bones and joints
Boosting immune system
Increase absorption rate of nutrients from food
Increasing metabolism
Improving cognitive functioning and development
What Are The Best Vitamins For Dogs?
Zesty paws 8 in 1 Bites
Our review
Zesty Paws as a brand understands that all pets' needs are unique. That's why they offer a variety of different formulas. It's to make sure your dog is supported no matter how exceptional their needs are. We love Zesty Paws because of its versatility and high-quality ingredients.
Average Customer rating: 4.6/5 stars
Pros
Organic ingredients
Several products and flavor options
Budget-friendly
Multivitamins in one chew
Cons
There have been complaints about the inclusion of palm fruit oil
---
VetriScience Canine Plus MultiVitamin for Senior Dogs
Our Review
The women-owned VetriScience vitamins are specifically formulated by industry experts for senior dogs. These multivitamins help support heart, liver, brain, and eye function and promote physical and mental well-being that can be challenging for older dogs to maintain.
Average Customer rating: 4.5/5 stars
Pros
The chews are a one-stop shop for all essential vitamins for senior dogs
The products are formulated by vets
NASC-certified
Cons
Have been known to be less effective in pain relief
The flavor is not very enticing
---
NaturVet All-in-One dog supplement
Our review
We love NaturVet for its All-In-One Dog Supplemental benefits. The soft chews offer support for joints, digestion, essential vitamins and minerals, and healthy skin and coats. The products are veterinarian formulated and provide quality nutritional support to help keep an active lifestyle.
Average customer rating: 4.5/5 Stars
Pros
Specifically formulated for the needs of the growing and active puppies
One stop shop for essential vitamins and minerals, as well as amino and fatty acids
They contain breath aid to help freshen your dog's breath
Cons
---
Vet's Best Multi-Vitamin Soft Chew
Our review
These multi-vitamin chews are a simple and delicious way to support your pet's long-term active and healthy lifestyle at a cost that won't make a dent in your wallet.
Average customer review: 4.2/5 stars
Pros
provides Antioxidants to help support a healthy immune system
contains Prebiotics to help digestive health
pocket friendly
Cons
The chews may be too brittle for them to remain whole in the pack. This may disrupt dosage quantity
---
PetHonesty 10 in 1 Dog MultiVitamin
Pet Honesty Dog Multivitamin – 10 in 1 Dog Vitamins for Health & Heart – Fish Oil, Glucosamine, Probiotics, Omega Fish Oil – Dog Vitamins and Supplements for Skin and Coat (90 ct)
BUILT ON OUR EXCLUSIVE NATURAL PURE VITALITY BLENDTM: Multivitamin 10-in-1 is formulated with our Pure Vitality BlendTM, made with natural ingredients you can find in your own pantry. We combine this nutritious blend with powerful, research-backed active ingredients to best support your dog's overall wellbeing. These soft chews supply essential minerals & nutrients to support 10 areas of your dog's health & help keep them in peak condition. Plus, they'll absolutely love the chicken flavor!
VET-RECOMMENDED TO SUPPORT OVERALL HEALTH & VITALITY: These easy-to-give chews are rich in essential vitamins, minerals, amino acids, enzymes, and fatty acids to help your dog feel their best in some of the most important areas of their health. This scientifically-balanced formula contains powerful ingredients like probiotics, glucosamine, & omega-3s to help maintain a healthy gut & digestion, promote healthy bones & joints, support heart, skin, & immune health, and more!
Our review
We absolutely love the PetHonesty chews as it combines a well-rounded blend of the most essential vitamins and supplements for dogs' overall daily health including glucosamine, probiotics, vitamins, and omegas which have a plethora of health benefits.
Average customer rating: 4.6/5 stars
Pros
Wide variety of healthy, natural treats and supplements
A majority of positive reviews for effective products and customer support
Competitive pricing for a high-quality product
Cons
Some customers have complained of allergies
---
Pro-sense Vitamin solutions
Our Review
Pro-Sense multivitamins offer a variety of proactive, sensible solutions for all of your pet's healthcare and wellness needs. It is suitable for dogs of all life stages.
Average customer review: 4.6/5 Stars
Pros
Provides Beneficial Antioxidants
Appropriate for All Life Stages
Helps Support Overall Wellness
Suitable for Everyday Use
Value for money
Cons
Customer complains about diarrhea, vomiting and inflammation
---
Open Farm Immune chews Dog vitamins
Our review
The open farm multivitamins cater to a variety of dog needs including immunity boost, skin and coat health, probiotic health, etc. Their jars are also 100% recyclable, making it highly sustainable. We love it for its versatility, sustainability and high-quality ingredients
Average customer reviews: 4.8 /5 stars
Pros
Provides support for seasonal allergies
Ethically sourced
100% recyclable
Traceable ingredients
Cons
On the pricier side
May not be the best for pain relief
---
VetIQ Health and Wellness Supplements
Our review
The VetIq multivitamin chews are versatile chews that effectively support the health and well-being of dogs.
Average Customer Review: 4.2/5 stars
Pros
Formulated to help support Active Brain Function, a Strong Immune System, and Healthy Digestive System
Made with wholesome nutrients
Flavorful
Value for money
Cons
There have been complains that the texture of the chews is hard and brittle
---
Mushroom Matrix Turkey Tail
Our review
We recommend this product because of the unique ingredients used in it. This is one of the rare products that uses mushroom powder as a primary ingredient.
Average customer review: 4.6/5 Stars
Pros
Formulated by canine nutrition experts
They contain a ton of superior-quality nutritional ingredients including beta-glucans, antioxidants, prebiotics, digestive enzymes, etc
Safe for every stage of a dog's life
Cons
They're unflavored, which may make them less enticing
Mushrooms may or may not suit all dogs
---
Natural Dog Company
Natural Dog Company Skin & Coat Chews, Salmon & Peas Flavor, Dog Vitamins and Supplements for Healthy Skin and Coat, Itch Relief for Dogs with Allergies, with Biotin, Vitamin E, and Omega 3
Experience the Difference: Give your dogs the gift of optimal skin and coat health with Natural Dog Company Skin & Coat supplements. We are confident that your fur babies will love them, and you'll witness the positive impact on their overall well-being. Order your supply today and see your furry companions thrive!
Effective Dog Skin & Coat Supplement: Natural Dog Company Skin & Coat Supplement Chews may help support your dog's health from the inside out with our nutrient dense formula Enriched with biotin, vitamin C, vitamin E, EPA, DHA, omega-3 and omega-6 fatty acids, Linoleic Acid, Alpha Linolenic Acid
Our review
We love recommending this product because of its all-natural and no synthetic ingredients. They provide solutions to a variety of canine concerns, including but not limited to skin allergies, immunity issues, hot spots, achy joints and much more
Average customer review: 4.5/5 stars
Pros
Natural ingredients that are rich in vitamins, minerals, amino acids, enzymes and essential fatty acids
Vet formulated for all life stages
Delicious flavors
Provides all-round health benefits
Cons
The scent of the product is known to be strong and unappealing to several dogs
---
Signs of vitamin deficiency in dogs
The three main causes of vitamin deficiency could include lack of food, lack of nutritional ingredients in food and digestive diseases that may prevent the absorption of these nutrients.
The most obvious signs of vitamin deficiency include –
Changes in bowel movement: color, consistency, content, and coating
Skin and coat changes, including but not limited to hair loss, skin disease, and infection
Behavioral changes like lethargy, depression, etc
Lack of energy
Some other signs could include –
Loss of appetite
Discoloration of tongue
Blood clotting problems
Changes in body temperature
Neurological problems
Difficulty in reproduction
Diagnostics for a dog that is experiencing the symptoms of poor nutrition and deficiencies start with a physical examination including standard tests such as a urinalysis, a biochemical profile, and a complete blood count. A fecal float can help uncover the presence of any parasites residing in the dog's body. Skin samples may be examined microscopically if the skin has been affected by malnutrition and deficiency.
How to choose the best vitamin for your dog
Once you have figured out your dog's nutritional and supplemental needs in terms of vitamins, the last and most important thing to do is pick out a vitamin that suits your dog's needs. Remember the following pointers while purchasing your dog's vitamins and supplements-
Keep it simple. Avoid getting too many vitamins and supplements that may disrupt and confuse your dog's system
A stamp of approval from NASC (National Animal Supplement Council)
Consult your vet to ensure that your dog is getting the appropriate vitamins and minerals as per their nutritional needs
Check for brand, history, recalls, and controversies
Read and understand the ingredients of the product and make sure your dog is not allergic to any of them
What essential vitamins do dogs need?
There are essentially 2 types of vitamins every dog needs: Water soluble vitamins and fat-soluble vitamins
Water-soluble vitamins, as the name suggests, dissolve in water. They're constantly being flushed out of the body, hence, regular top-ups are needed.
Fat-soluble vitamins are vitamins that are found in animal fat. A dog's body absorbs them through their intestine and stores them for later use.
WATER SOLUBLE VITAMINS
VITAMINS
BENEFITS
Vitamin B1: Thiamine
Strengthens immune response Important to break down carbohydrates
Vitamin B2: Riboflavin
Promotes eye health Important for blood cell production
Vitamin B3: Niacin
Improves metabolism Catalyst for hormone productions
Vitamin B5: Pantothenic acid
Necessary for protein absorption and fatty acids
Vitamin B6: Pyridoxine
Regulates sodium and potassium levels in the body Improves cognitive function
Vitamin B7: Biotin
Important for healthy skin
Vitamin B9: Folic acid
Essential for DNA synthesis
Vitamin B12: Cobalamin
Better nerve function
Vitamin C
Important antioxidant Reduces inflammation
FAT-SOLUBLE VITAMINS
Vitamin A
Healthy eyes Important for the healthy functioning of organs and the immune system
Vitamin D
Balances minerals and phosphorus
Vitamin E
defenses against oxidative damage
Vitamin K
Activates blood's ability to clot
How much vitamins do dogs need?
The nutritional and supplemental needs of a dog vary depending on the stage of life they are in and deficiencies if any.
If your dog is consuming well-balanced and nutritious dog food that is sourced from high-quality, organic ingredients, vitamin supplements may not be necessary as their meals contain the right proportion of vitamins and minerals. In such cases, supplements could do more harm than good.
A quick blood test would help you find out if there are any deficiencies in your dog and if they need additional vitamins and supplements. Your vet and/ or dog nutritionist will be able to give you accurate information.
Bottom Line
With just one single tab, your pooch will be able to get their daily dose of vitamins, minerals, fatty acids, and powerful antioxidants.