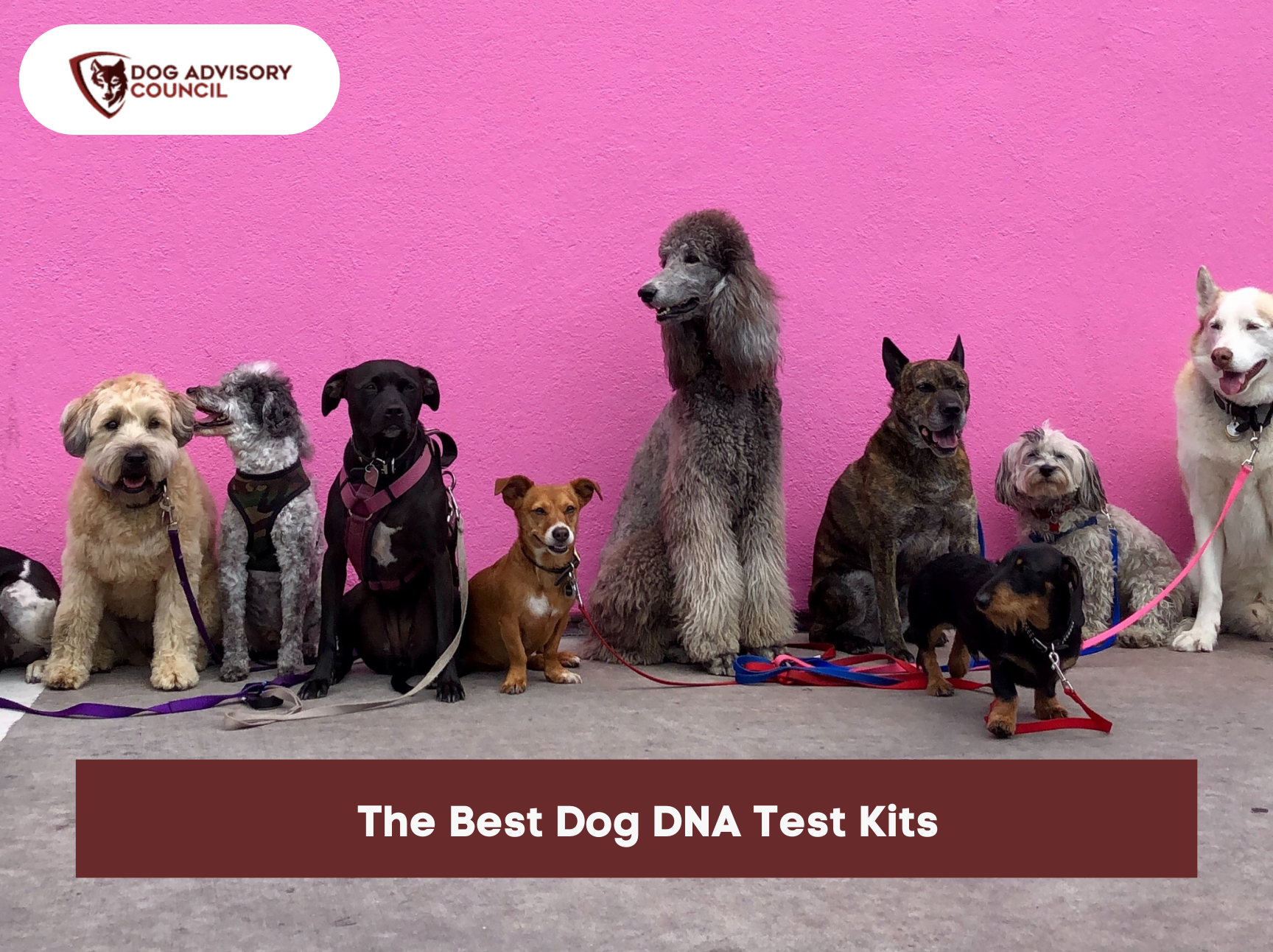 Did you know that genetically, a Chihuahua and a Great Dane are 99% identical? Understanding a dog's DNA can offer a number of valuable benefits for both the pet parent and the dog. While analysing the available Dog DNA testing brands, we looked for clear instructions, quick results, user-friendly ways and other inclusions in terms of examining a dog's data. We also made note of other extra features, like the ability to network with other dog owners, and brands that provide nutritional and lifestyle advice.
How does a dog DNA test work?
Most dog DNA test kits require you to swab your dog's mouth for saliva with a cotton swab that comes with the kit. These saliva samples are then placed into a tube and shipped to the testing company's laboratory for analysis. Once it arrives at the lab, a technician will extract and amplify the DNA from the sample for analysis. Some DNA test kit providers use dog poop DNA testing which will require the pet parent to sample feces for testing.
The lab analysis is based on miniature biochips called microarrays. The microarrays react with the DNA sample and are able to detect thousands, or even millions of genetic markers at once.
The tests we've looked at are all home DNA tests, meaning you take the sample, send it away for analysis and receive the results. You may be able to ask a vet to run a DNA test on your dog – if you take this option, they'll also be able to help you interpret the results.
Benefits of a Dog DNA Test
Getting a DNA test done for a dog can unlock a few mysteries about them. While they do answer some questions about a mutt's predecessors, it is also helpful in figuring out a few other things such as:
Understanding breed-specific health and genetic issues
Knowing the potential size of a puppy
Proving pedigree
Understanding personality traits to better fulfill your dog
Beneficial for breeders
Helpful in understanding breed-specific risks related to certain medications
How accurate are DNA Tests?
Most DNA testing brands in the market boast more than 90% accuracy. Dog DNA test accuracy largely depends on the size of the brand's breed database and how many DNA markers or data points your dog's sample will be compared against in order to determine their breed. Each company has a different proprietary method to calculate these results.
Dog DNA tests have only been in existence for a couple of decades, so they don't have the backing of strong and credible peer-reviewed research on mapping genetic variants to the risk of diseases. This is also the reason why many veterinarians and professional behaviorists shy away from stamping these kits with their approval. While these results may be close to accurate, it is important you don't make medical decisions based solely on a dog's DNA test results.
What to look for in a dog DNA test
Accuracy (Duh!)
Test accuracy is especially important if you are getting a test done to get an insight into their health and body composition. While some brands promise 99% accuracy, they are highly based on the company database's accuracy.
The comprehensiveness of the test
Consider a DNA test investment in your dog's well-being and make sure to invest in a brand that will help you determine your dog's lineage, health issues, medical sensitivities, etc along with the basic DNA test.
Speed
The speed of the DNA test may especially matter to breed enthusiasts and breeders who are about to give puppies away in a specific time period. There are tests that can deliver them quickly (in a couple of weeks), while other testing companies take months to deliver results.
---
The Best Dog DNA Test Kits of 2023
---
1. Embark – Dog DNA Test Kit
Embark Breed & Health Kit – Dog DNA Test – Discover Breed, Ancestry, Relative Finder, Genetic Health, Traits, COI
HUNDREDS OF ACTIONABLE HEALTH INSIGHTS: 75% of dogs are either at risk or a carrier for a genetic health condition. Embark's panel tests 230+ health risks and provides hundreds of actionable insights to help you give your pup the best care possible. After receiving their test results, 37% of dog owners changed how they care for their dog.
BREED ID THAT'S TWICE AS PRECISE: Embark tests over 230,000 genetic markers, twice as many as the next competitor. We also screen for 350+ dog breeds, more than any other dog DNA test. This means Embark's test is the most accurate and scientifically advanced on the market.
HIGHEST RATED & MOST TRUSTED: Embark is the highest rated dog DNA brand on Amazon.com with over 16,000 5-star reviews. Only Embark uses research-grade data and is partnered with Cornell University College of Veterinary Medicine. In a blind study, dog owners rated Embark as the most trusted dog DNA test.
Cost: $139
About Embark
The founders of Embark Dog DNA Test have not only uncovered the genetic basis for many dog diseases and traits but also discovered many of the things that make every breed and every individual dog unique. It checks against more than 350 pup types, as well as wolves, coyotes, dingos, and the so-called free-ranging "village dogs." This analysis breadth is key when it comes to the accuracy of breed determination.
Why we recommend Embark
Embark is a big name in canine DNA testing and uses a current state-of-the-art canine genetic testing platform called the SNP (single nucleotide polymorphism) microarray. The microarrays use probes to sample regions across the entire canine genome, unlike most other DNA testing kits that test DNA at a single genomic region. Because of this technological platform, Embark is able to narrow down many potential markers to derive to an accurate result.
Embark tests across 230,000 markers, twice as much as its leading competitor which makes Embark the most accurate Dog DNA test on the market. Their probes are customized to derive on detailed results such as 215+ genetic health risks, 35 traits, and genetic diversities. Each genetic health condition is tested using at least 3 and up to 8 separate probes. The resulting redundancy gives an excellent genotyping accuracy of over 99% for mutation tests and most linkage-based tests.
They are the only testing lab that provides breeders with ownership of their dog's raw genetic data. No other testing lab freely shares these raw data in the interest of advancing scientific discovery.
Cost: $139
Average customer rating: 4.6/5 stars (15000+ reviews)
Test Inclusions
Breed breakdown
Breed confirmation
Relative finder
Ancestry and geographic origin
Support from genetic specialists
Genetic health screening
Personalized recommendations if applicable
Coat and body trait insights
Genetic diversity measurement
Predicted adult weight
Send results directly to your veterinarian
---
2. WISDOM PANEL DOG DNA TEST
About Wisdom Panel
The team of scientists at Wisdom Panel has spent more than a decade developing a custom genotyping chip and an industry-leading breed detection system. They boast 40x greater genetic resolution as compared to their competitors. Their dog breed detection system is over 98% accurate, thereby allowing them to identify slight differences between even the most closely related and similar-looking breeds.
Why we recommend Wisdom Panel
Wisdom Panel has the biggest database for the best breed detection which allows them to test a pet's genetic code against millions of possible breed combinations. They can screen for 23% more dog breeds and 150% more cat breeds. Their detection system in their CLIA-certified, human-grade lab is not only quite accurate but is 1140x more efficient than the industry standard. Wisdom Panel works with Neogen Genomics, the genetic pros with more pet DNA experience than any other lab, receiving more than 1.5 million samples every year.
We also love Wisdom Panel for the variety of products they offer to cater to different needs such as breed discovery and identification, in-depth Dog DNA reports, health insights, breeder programs, etc.
Cost: $64 – $105
Test Inclusions
Average customer rating: 4.6/5 Stars (18000+ reviews)
Screen for 350+ breeds
Test for medication sensitivities (MDR1 test)
Find your dog's relatives
Trace their family tree back 3 generations
Test for 210+ genetic health conditions
Test for 35+ physical traits
---
3. DNA My dog Genetic
About DNA My Dog Breed
DNA My Dog's DNA test is an affordable option for an at-home canine DNA assessment. You can get a report on your dog's dominant breeds, personality traits, and any breed-related health concerns. The comprehensive DNA test kit also comes with a Genetic age test that provides insight into the predicted longevity and health of a dog.
Why we recommend
DNA My Dog provides their customers with a custom certificate with a photo of their dog stating their unique DNA composition. This one-of-a-kind certificate is suitable for framing. Their results are available in less than 2 weeks after the test. They also provide a Canine Genetic Age Test in which pet owners can learn the exact genetic age of the dog. A genetic age test is the best marker of a dog's health and an ideal way to discover the age of the dog when the calendar age is unknown. This is the first and only test of its kind that enables people to learn about any cellular aging issues affecting their dogs.
They also boast a 99.97% accuracy rate and every result includes the list of all breeds by Level Percentage of every breed in your dog's genetics.
Cost: $63 – $120
Average customer rating: 3.4/5 stars (100+ reviews)
Test Inclusions
Your dog's breed composition
Unique personality traits of your dog
Genetic health concerns common to the breed
Predisposition to disease
A custom photo certificate of the breeds found in your dog's genetic breed composition.
A percentage breakdown of the levels found in your dog's unique DNA.
A detailed report on dominant breeds, personality traits and health concerns.
Rapid results
---
4. Orivet Genopet – Dog DNA Test Kit
About Orivet
Orivet offers a range of genetic services to breeders and veterinarians that include a screening of genetic diseases, coat colors, traits, parentage confirmation, and much more. Apart from providing highly accurate results, they dive deeper into the well-being of the dog with all-inclusive access to a personalized Life Plan to help pet parents manage their paw-tner's health and wellbeing
Why we recommend Orivet
The Orivet Genetic Testing provides a comprehensive result stating the breed percentages in a dog. Their dog breed identification test also includes a LIFE PLAN based on the dog's breed, age, weight, gender, geographic location and lifestyle for the ultimate management of a pet's health throughout their life. They further make a pet parent's life easier by including a schedule they can follow with their veterinarian to implement a customized wellness plan for the dog.
Cost: $99.95
Average customer rating: 4/5 Stars (800+ reviews)
Test inclusions
Percentage Levels of Each Breed
Adult Weight Prediction
Insights into Your Dog's Personality and Behavior
Discover heritable health risks and what to do about them
Nutritional Suggestions for your dog
Routine health care advice and alerts e.g. vaccination overdue
Includes access to an interactive online report you can update over time.
---
In Conclusion
The biggest advantage of the DNA test kits we've covered here is the at-home convenience they offer. You can also get your dog's test done at the veterinarian's clinic. The big difference between doing an at-home genetic test and performing one through your veterinarian is having a professional interpret the data.