Takeaways:
Purchasing two pet insurance policies for the same pet is legal.
You can't file a claim for the same expense with both insurance companies.
Purchasing two policies may give you extra coverage or prevent a lapse in coverage when switching insurance companies.
In most cases, purchasing two policies won't make sense due to the cost of paying two separate premiums.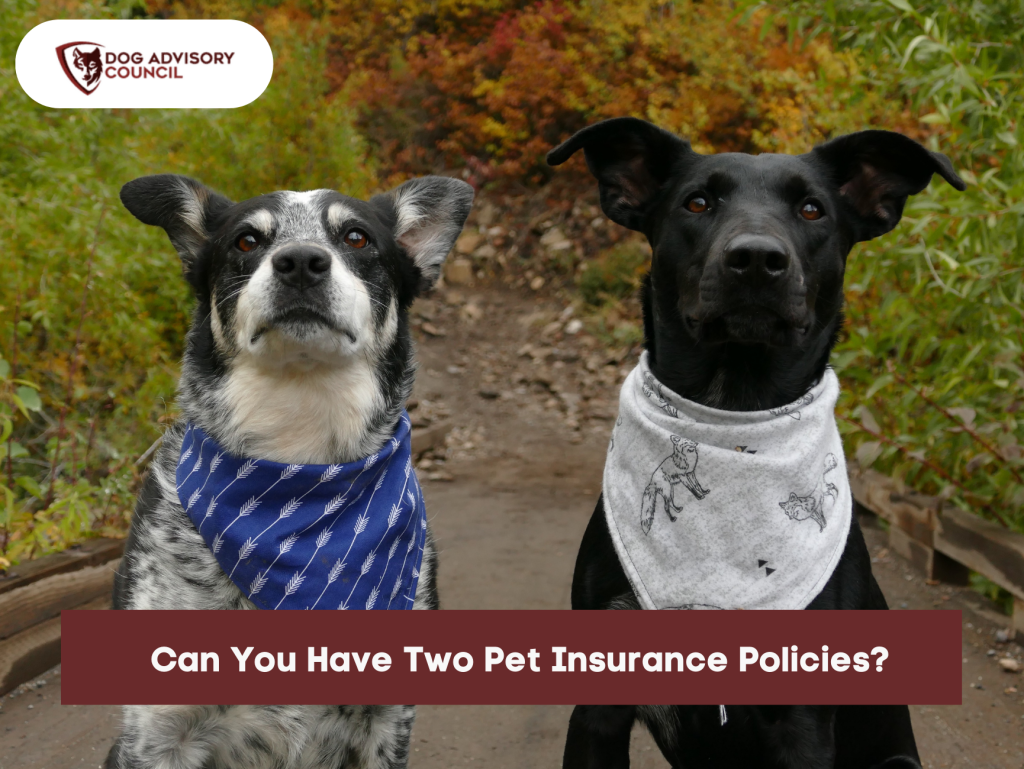 Purchasing two pet insurance plans for the same pup is completely legal, but it won't always get you the additional coverage you might expect. In most cases, paying double the premiums won't lead to a great deal of savings.
Can I Have More Than One Pet Insurance Policy For The Same Pet?
Yes, you can have two pet insurance policies at the same time. However, you cannot submit a claim to both insurance companies for the same accident or illness. If you get hit with a vet bill, you'll need to choose one policy to make the claim with.
Some pet insurance companies may even refuse to pay out a claim if your pet is insured with two policies, so always double check with your initial insurance company before purchasing a second policy.
Can I File Claims With Both Insurance Companies If My Pet Has An Accident Or Illness?
No, submitting two claims with two insurance companies is considered insurance fraud. Doing so could result in serious fines and even jail time.
When you file a claim, your insurance company may ask you if you have another policy elsewhere. This question is intended to ensure that you aren't submitting two claims with two separate insurance companies.
Pros and Cons of Having Two Pet Insurance Policies
Before purchasing a second pet insurance policy, consider the pros and cons.
Pros:
You'll have a bit more coverage. If one of your policies covers something the other doesn't, you'll have more coverage by doubling up.
You'll be covered if you're switching plans. When switching over to a new insurance company, it's a good idea to keep your first plan active while transitioning into the new plan. That way, you'll be covered during the waiting period of your new plan.
Cons:
You'll need to pay premiums on two policies. Depending on the breed, age, and location of your pet, this could prove to be a hefty expense. In some cases, you may find that throwing the extra amount you'd be paying toward a premium into a pet emergency fund might be more beneficial.
You'll need to decide which policy to use and when. When a pet emergency arises, it can be overwhelming to make quick decisions. WIth just one plan, you won't have to think much about the insurance process. If you have more than one plan, however, you'll need to make a gametime decision about which one you'd prefer to use.
Will Having Two Pet Insurance Policies Cover More Expenses?
Not necessarily.
Most people tend to think, "Two policies means twice the reimbursement, right?," but this isn't the case. Because you can't double up on reimbursements, you won't have more of the expense covered per se.
You might find, however, that one policy provides more coverage for certain expenses than the other. In that case, you may receive a larger reimbursement by using one policy over the other. After paying two premiums, it may not net out to a great deal of savings though.
Final Verdict: Is It Worth It?
In most cases, having more than one pet insurance policy simply won't be worth it because of the cost of paying two premiums. However, as a pet owner, it's up to you to pick the best option for your pet. If you believe doubling up on policies would give you a greater peace of mind and if the premiums are within your budget, it might make sense.