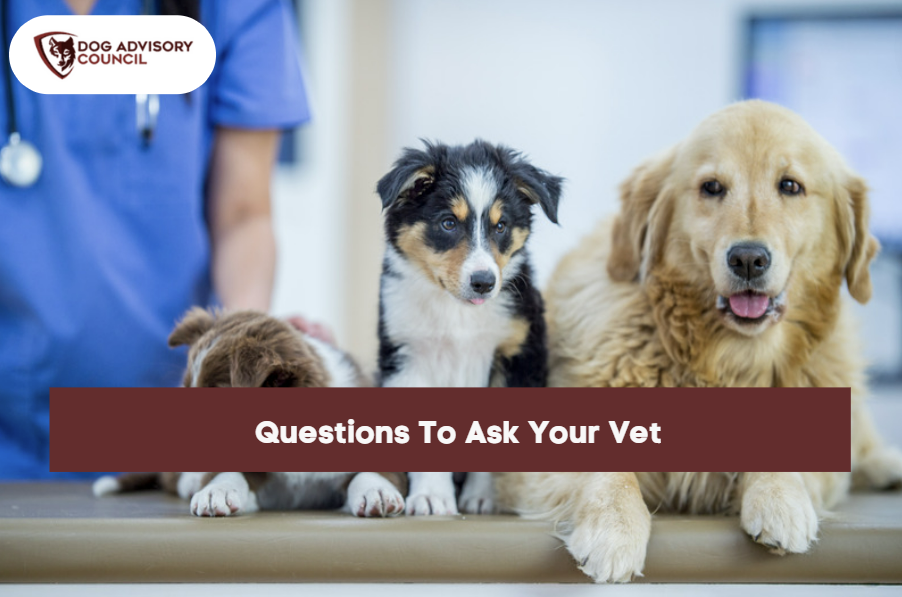 Your veterinarian is a key member of your pet's care team. We may be animal lovers, but a large part of the job involves interactions and communication with pet parents. It is important to have a good relationship and open communication with your vet, so that they can better help keep your furry family member healthy. As our patients can't speak for themselves, vets rely on a thorough history from the pet parents, as well as a physical exam and diagnostic testing, to figure out what's going on with your pet.
They will greatly appreciate your involvement and thoughtful questions throughout this process.
So what are questions that every pet owner should ask their vet? Some are logistical while others directly concern your pet's health. They will all foster a relationship with your vet and help you get the most out of your veterinary visit.
What should I do if my pet has an emergency after hours?
Emergencies can happen at any time of day. If your pet has an emergency or becomes ill outside of your vet's normal business hours, it is important to know your options. Some veterinary clinics provide after-hours services for current clients, while others will refer you to a local animal emergency clinic. While this information should always be listed on your vet's after-hours phone recording, the door of the clinic, and their website, it is a good idea to be aware of the contact information and location of your closest emergency clinics.
It is also important to have a financial plan in case of emergency. Whether your vet is able to see your or if you take your pet to the emergency room, medical care can add up quickly and you will likely face additional expenses. Also keep in mind that even if an emergency happens during clinic hours, your vet may recommend referral to an emergency center if they do not feel equipped to deal with the emergency, either because they are busy working on other critical patients, or feel that your pet may need additional specialized care and equipment.
What can I do to prepare my pet for their vet visit?
Your vet will appreciate this question! If your pet is calm and comfortable in the vet clinic it makes the experience more pleasant for everyone involved. Most veterinary clinics will require cats to come in carriers and dogs to come in carriers or on a short leash. Here are some things to discuss with your vet before your pet's visit.
How to get your cat comfortable in their carrier – It's not fun to chase your cat around the house 15 minutes before your vet appointment! If your cat only sees the carrier come out before they go to the vet, they will quickly develop a negative association. It is best to leave your carrier out all the time for your cat to explore. Periodically you can feed them treats or meals in the carrier. You may even wish to go through this training program with them. Other helpful tips for what do when you arrive at the vet include placing the carrier on a higher surface like a table or chair rather than the floor, covering it with a towel, waiting in a cat-only area if possible, and choosing a carrier with a removable top for better access to your pet.
Building a positive association with the vet clinic – If your pet only ever gets shots and nail trims at the vet they will quickly learn to dislike it. Ask your vet about stopping by with your pet for some treats and cuddles when they are not scheduled for an appointment. This is especially beneficial for puppies and kittens.
Fear free techniques – This initiative is transforming veterinary care, with many in the field pledging to use techniques that alleviate fear, stress, and anxiety in pets. Ask your vet what fear-free techniques they use and if there's anything you can do to help, like bringing a special toy or treat from home.
Medications that can help take the edge off – If you have a veterinary-client-patient relationship with your vet and there are no contraindications, most vets will be more than happy to prescribe medications that you can give at home to help your pet feel less anxious during their visit. There is also medication approved for motion sickness, as some pets can get car sick.
Is my pet a healthy weight?
Based on a study in 2019 of adult dogs seen at Banfield pet hospitals, over 50% were considered overweight or obese. Just like in people, overweight pets are more at risk for developing certain diseases affecting the quality and length of their life. This may include higher risk of developing cancer, diabetes, heart disease, arthritis, bladder stones, and complications under anesthesia. Many pet parents may not know that their pet is overweight or the best ways to help them lose excess weight. Therefore it is very beneficial to discuss how to monitor your pet's body condition score, feeding/diet recommendation, and how much exercise your pet should be getting.
Related: The Best Dog Foods For Weight Loss
What is this lump or bump?
Lumps and bumps on or below your pet's skin are very common. While your vet will always perform a thorough physical exam at each appointment, sometimes these can be small and hard to see in fluffy patients. If you notice any lumps or bumps while petting your dog or cat at home, be sure to bring it up so your vet can take a look. Many are benign, but some can be a sign of skin cancer. As it is difficult to tell just by looking, additional testing such as a fine needle aspirate or biopsy may be recommended.
What vaccines do you recommend?
The answer to this question will depend on your pet's age and lifestyle. Core vaccines (recommend for all animals) for dogs include Rabies and a Parvovirus, Distemper Virus, and Adenovirus-2 (plus or minus Parainfluenza) combo vaccine. For cats they include Rabies, a Calicivirus, Herpesvirus-1, and Panleukopenia combo vaccine, and feline Leukemia in cats less than one year of age. Other (non-core) vaccines can be just as important, but will be recommended based on your pet's age, lifestyle, and risk of exposure. This is why having an honest discussion with your vet about your pet's lifestyle is so critical.
What parasite prevention do you recommend?
Year-round flea, heartworm, and intestinal parasite prevention is beneficial for all animals. If your pet has a flea allergy, goes outdoors frequently, or lives with young children or immunocompromised individuals this is especially critical. There are many different brands and preparations of parasite prevention. There are oral products, topical products, injectible products, and products that protect against one type or many types of external and internal parasites. With all these options, it can be overwhelming to pick a product for your pet. Your vet will have a recommendation based on your pet's breed and lifestyle.
When does my pet need a dental cleaning?
Your pet's dental health is an important aspect of their veterinary care, and something that is critical to discuss during all life stages. Young puppies and kittens may have retained deciduous teeth or malocclusion (abnormal bite). Dental disease can occur at any age, but is extremely common in adult and senior pets. Cats are especially prone to developing feline odontoclastic resorptive lesions. If possible, brushing your pet's teeth at home and/or using dental products approved by the Veterinary Oral Health Council can help keep their teeth healthy. However the majority of pets will need multiple dental cleaning under anesthesia with your vet throughout their life as well. Your vet will be happy to discuss when this may be recommended for your pet and what it entails.
Can I give this to my pet?
Whether it's a human medication, food, or supplement, your vet will appreciate you checking in before you give something new to your dog. Some common human medications, such as ibuprofen and Tylenol, can be extremely toxic for your pet.
Is this normal?
Pets can do the darndest things. Sometimes it can be difficult to tell if it's normal or an indicator of an underlying medical or behavioral issue. If you have any questions about a behavior or symptom that you are noticing at home, definitely bring it up with your vet.
Could you demonstrate how to…?
If your vet prescribes a new medication or treatment for you pet, be sure to discuss any questions that you have about how to give it before leaving the clinic. Ear ointment, eye drops, and pills can be difficult to administer, especially in feisty felines. Your veterinary care team should be able to demonstrate. This is especially important for medications such as insulin and subcutaneous fluids, which require injecting your pet at home. Not only does your care team want you to feel comfortable administering the prescribed medication, they also want to be confident that your pet is receiving the correct dosage.
When should I schedule my next appointment?
This will depend on your pet's stage of life and any underlying medical conditions. Be sure to check in to see if any rechecks are needed or when your vet would like to see you back for your next appointment. Healthy adult pets should see the vet at minimum once per year. Puppies, kittens, senior pets, and those with chronic medical conditions, will need to be seen more frequently.
What pet health insurance do you recommend?
The majoriy of vets wish that more of their clients used pet health insurance. If financial worries are alleviated, it can help return the focus of client communication to medical recommendations and quality of care over cost, and more pets are likely to receive the care that they need. There are many companies offering pet insurance, and your vet likely has a recommendation or two. There are also a number of pet insurance companies recommended by Sound Dollar.
Can I see a cost estimate?
Many vets will provide a cost estimate before proceeding with any treatments on your pet. If they don't, feel free to ask. If there are any financial limitations it is best to be upfront, so that they can do their best to work within your budget and provide the best possible care for your pet.
Where can I find more information about…?
With the internet at our fingertips, it is easy to be overwhelmed by the amount of information available. But some sources are more reliable than others. Your vet should be able to point you towards trusted sources where you can find accurate and detailed information about pet care and common medical conditions.
How are you doing?
The focus of your veterinary appointment should be on your pet's care and well-being. However, veterinarians have one of the highest rates of suicide and mental health issues of any profession, and it is a growing problem. While there are many resources, such as Not One More Vet, available to help, support from friends, family, and clients goes a long way.