Takeaways
Tucson Arizona is home to America's most considerate dog owners
The country's worst-behaved dog owners live in Pittsburgh
Seattle is the US dog poop capital
Dog Owners in Newark are the most likely to let their dogs off the leash in public
People in Cleveland were most likely to complain about dogs barking and howling at night
Owning a dog can be incredibly rewarding, but between the cuddles and belly rubs there's also a significant amount of responsibility that comes with being a pet parent.
As the saying goes, there's no such thing as a bad dog, just bad owners, and falling into bad habits can impact what your neighbors think about both you and your dog.
So where do America's worst-behaved dog owners live and who's top dog when it comes to fur baby etiquette?
Dog Advisory Council analyzed Twitter data to find the cities that tweet the most about bad dog owner behavior such as not cleaning up after their pooch, letting their dog off the leash in public, and leaving their pup to bark or howl through the night.
Cities were scored on their relative performance in each category, the higher the score, the more complaints per capita.
America's Best Dog Owners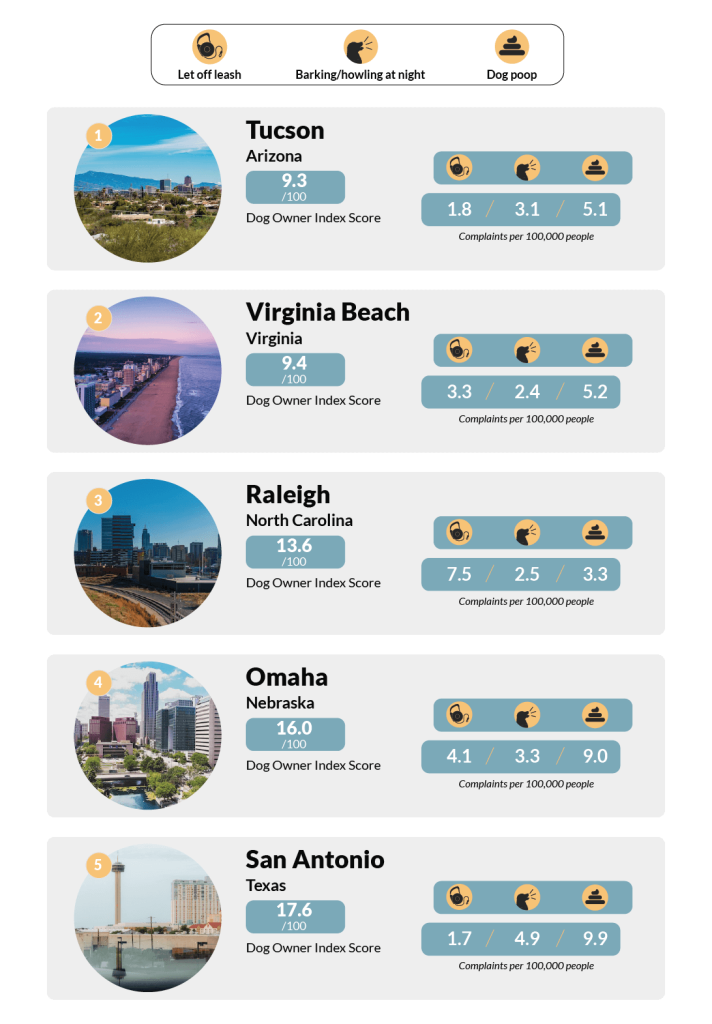 With some of the lowest levels of complaints for poor pet parent etiquette across all three categories, Tucson Arizona is home to America's most considerate and best-behaved dog owners.
In fact, Tucson ranked third among cities with the least off-leash and barking complaints, and fifth in dog poop complaints with just 5.1 per 100,000 people.
Just missing out on the top spot with a dog owner score of 9.4 out of 100, was Virginia Beach. With top 10 finishes in both leash etiquette and dog poop categories, Virginia Beach had a lower level of dog bark complaints than any other city included in our study.
Taking third place in our study is Raleigh North Carolina, which boasts the country's lowest levels of dog poop complaints, followed by Omaha and San Antonio with scores of 16 and 17.6 respectively.
Top 25 Best Dog Owner Cities
America's Worst Dog Owners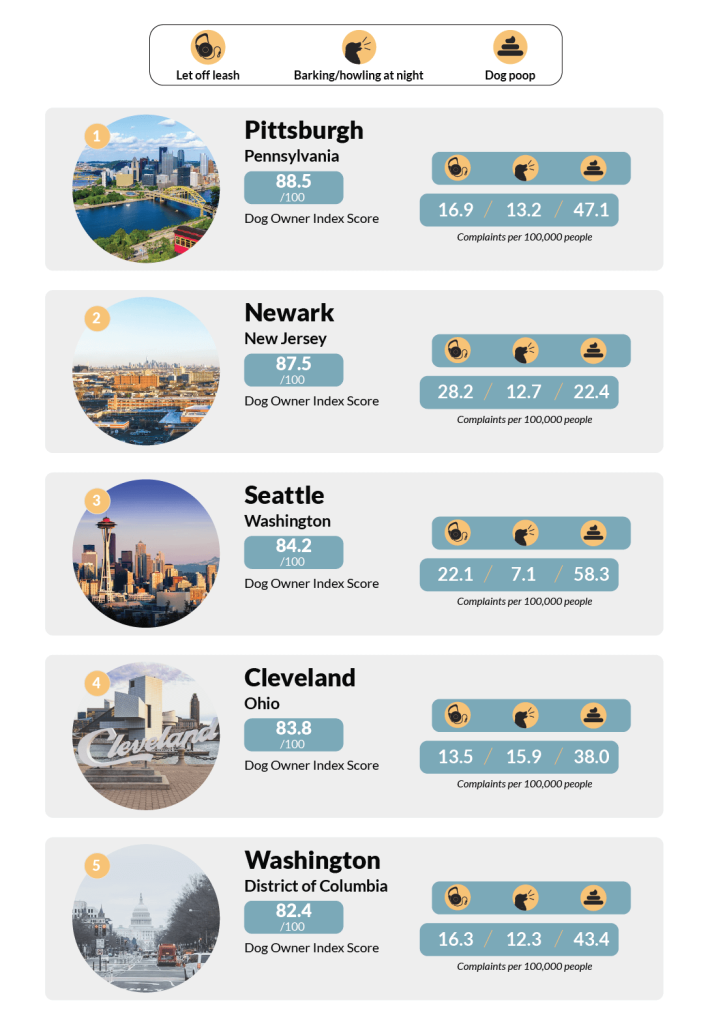 On the other end of the scale, dog owners in Pittsburgh are America's least courteous.
Ranking seventh in reports of dogs off-leash, fourth for barking complaints, and third for dog poop sightings – Pittsburgh finished with a total score of 88.5 out of 100 on our dog owner index.
Taking second place among the worst-behaved dog owners was Newark. Despite placing 20th for dog fouling, Newark had the 6th highest rate of barking complaints and more per capita reports of dogs being let off their leash in public spaces than any other city in America.
On the opposite coast, Seattle dog owners were the third worst behaved with Cleveland and Washington DC finishing in fourth and fifth place.
Top 25 Worst Dog Owner Cities
Worst Cities For Dog Poop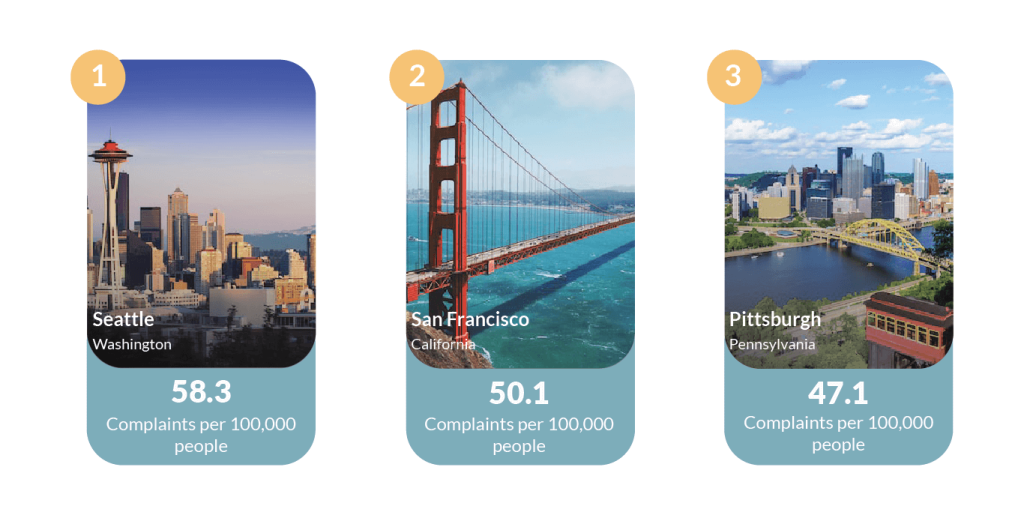 Unpleasant to see, smell or step in, dog waste can also contain organisms that can be harmful to both people and pets, such as E.coli, Giardia, and roundworms – so it's not just polite but important to dispose of properly.
With a staggering 58.3 reports per 100,000 people, Seattle is America's dog poop capital.
The problem with dog poop in Seattle has even led to the founding of a community-driven dog poo bin program across parts of the city, and a scheme in Kirkland, a suburb east of Seattle found almost 200 instances of un-scooped dog poop at one park in a single month.
Worst Cities For Dogs Off Their Leash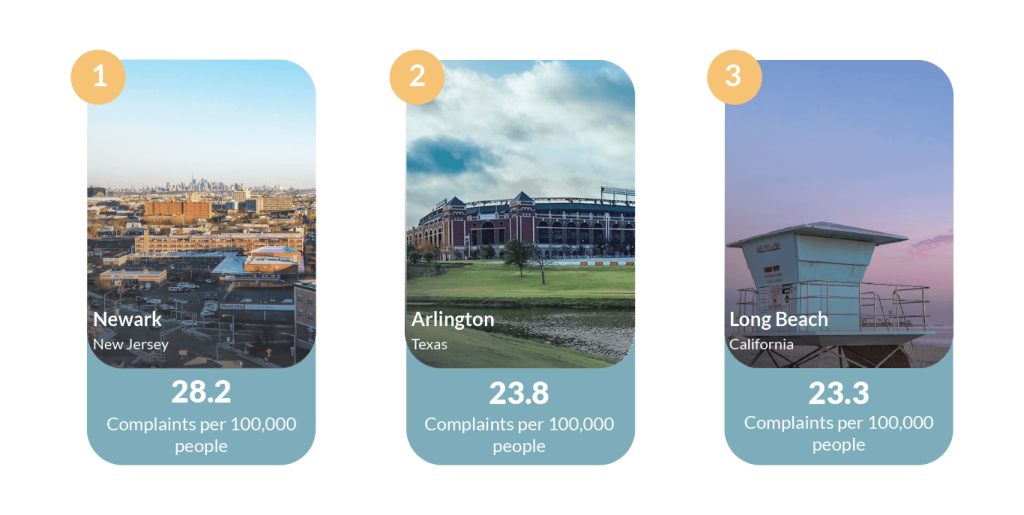 For both the safety of the general public as well as the health and safety of your dog, most cities will have restrictions on where dogs can be safely let off their leash, such as specific off-leash dog parks.
However, with 28.2 complaints per 100,000 residents, it seems like dog owners in Newark may be giving their pooches a little too much freedom.
No matter how friendly your pup may be, it's important to remember that not everyone is a fan of dogs, and coming across one unexpectedly could make people feel uncomfortable or cause them to panic.
Sticking to dedicated off-leash areas will give your dog the freedom to run around and explore, and play with other sociable and well-natured dogs without having to worry about any unexpected consequences.
Worst Cities For Dog Barking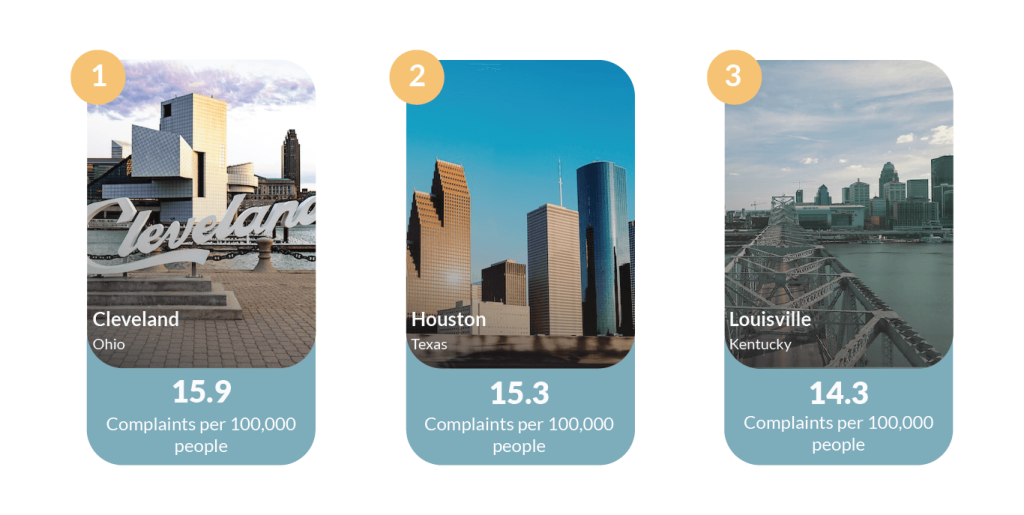 While noisy, barking is a totally normal part of everyday dog behavior. However, if your dog is barking for extended periods of time, it's not only incredibly disruptive to both you and your neighbors but could also indicate that your dog is distressed.
So while barking in itself isn't a sign of being a bad dog owner, not making the effort to identify what's causing them to bark excessively or train your dog out of bad behaviors can certainly be considered poor owner etiquette.
Our study found that dog owners in Cleveland were the least likely to address their pooch barking or howling at night, resulting in 15.9 complaints per 100,000 annoyed and sleep-deprived neighbors.

Related: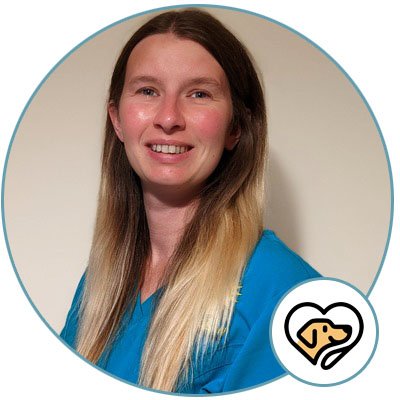 As a veterinarian, I am lucky to spend my days working with some delightful pooches! Alongside these well-behaved pups are engaged owners who understand the necessity of responsible dog care. Sadly, this research shows that this isn't always the case! The residents of Pittsburgh, Newark and Seattle may not be feeling so good about their neighbours' canine companions, with such horrifying levels of complaints found with these surveys. Keeping dogs under control, cleaning up after them and meeting their needs to prevent unwanted noise are all recognized needs of dog ownership, essential both for canine welfare and for public health.
Dr. Lizzie Youens, Veterinary Surgeon from DollarGeek.com
Methodology
An analysis of geotagged tweets for the 100 most populated cities in the US that contained relevant keywords for dog owner etiquette including not cleaning up after your dog, letting a dog off leash, and dogs barking at night. Retweets were excluded and duplicates were removed and cities with insufficient data were excluded.
Example: Tweets that contain ("Dog" OR "Dogs" OR "Puppy") AND ("Poop") AND ("Stepped")
Using a min-max normalization formula, cities were scored on the number of tweets per 100,000 population and ranked by their relative performance.
Higher score = more complaints per 100,000 people.
Population of US Cities: worldpopulationreview.com