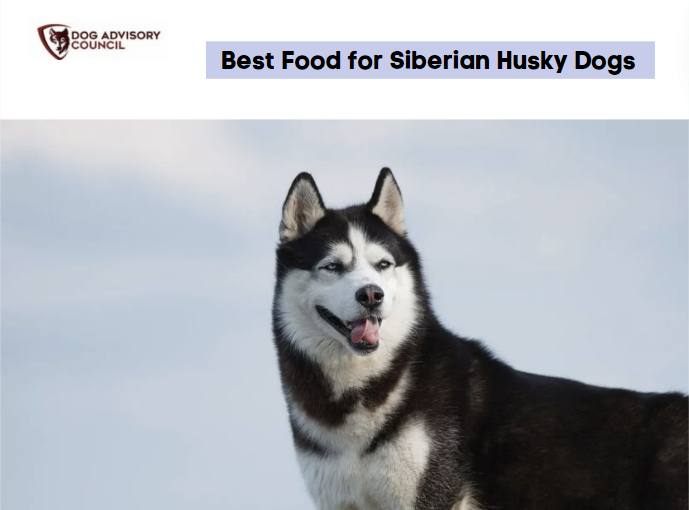 Choosing what to feed your Siberian Husky dog can be difficult. Before Siberian Huskies were imported to America in 1909, they lived with the Chukchi people of Siberia. Huskies were bred to pull a sled, run all day and keep the children warm at night. During the summer months, they were turned loose to fend for themselves and hunt for their own food.
Short History of the Siberian Husky
The Chukchi people who lived near the Siberian coast hunted polar bears, seals, walruses, and whales, and fished. Inland, their main profession was reindeer herding. They fed their dogs on the carcasses from the day's kills and table scraps.
Siberian Huskies are also the nearest relatives of wolves. DNA from Huskies owned by Alaskan Inuits was tested and found to contain between 1.5% and 17% of the DNA of the ancient Taimyr wolf that lived in Siberia 35,000 years ago.
Knowing this information, it is easy to see why Siberian Huskies have evolved into a breed that, despite being high-energy, can survive on very little food and are prolific hunters.
They need to have a diet that is high in meat protein. However, don't be surprised if they turn their noses up at their food. Huskies are notoriously difficult about what they will eat and when. While some huskies will eat everything and anything until they pop, others will only eat if they are hungry. It is not unusual for a husky to go without food for a day or two, just as they would have done when they were running wild during the summers in Siberia.
The best food for a Siberian Husky is as nature intended, and that is with a raw diet. Bones and Raw Food (BARF) diets are very popular with Siberian Husky owners.
While you can feed your dog cooked meat, the bones you give him must be raw. Cooked bones can splinter and cause the intestine to rupture.
You can buy ready-prepared raw BARF menus from a pet store, but it will be cheaper if you take the DIY option and buy raw meat and bones for your dog from the local butcher or supermarket. This way, you will know exactly what your dog is eating, and the food will be of the highest quality and fit for human consumption. It is also likely to be cheaper. When choosing pre-prepared raw dog food, remember to compare the price to what you would pay per pound for meat in the supermarket. Some suppliers seem to have lost sight of this and charge a ridiculous premium for their products.
Dog Food Books
If you want to learn more about feeding your husky a raw diet, then the following two books are highly recommended:
Working Wonders: Feed Your Dog Raw Meaty Bones by Tom Lonsdale.
Make Raw Dog Food Simple for You and Your Dog by Carina Beth MacDonald.
These books will teach you how to balance the different choices of protein and how to ensure your dog gets a diet containing all the nutrients he needs to stay healthy.
Top Tip: If your Husky refuses to eat raw meat, try feeding it straight from the freezer. Some huskies don't like the texture of raw meat unless it is frozen. Given that they came from Siberia, which is frozen for a large part of the year, it isn't surprising that they prefer their meat frozen.
Cooking for your Siberian Husky is another option for giving him a good diet where you know exactly what ingredients he is eating.
Raw will always be the more natural choice, but a home-cooked menu is second best. You can read more about cooking meals for your dog in this book.
Home Cooking for Your Dog: 75 Holistic Recipes for a Healthier Dog by Christine Filardi:
If you really can't handle feeding and storing fresh or frozen meat, or don't have time to cook for your dog, then a grain-free kibble diet is the third best choice. However, just because you choose to feed dry kibble doesn't mean that you can't add some fresh or cooked meat to the diet. You could even add a bit of grain-free wet food if you prefer. You can even mix and match what type of food you feed your dog. He could have grain-free kibble for breakfast, a raw meaty bone at tea time, and a cooked meal when you have yours in the evening if you want.
Feeding your dog doesn't have to be a set routine as to what he eats. You enjoy eating a variety of foods. There is no reason why your dog can't too.
Do make sure you are aware of what foods are poisonous to dogs. Dogs can't eat certain foods such as onions, grapes, and raisins.
Some of the best grain-free brands are listed below. If your Siberian Husky refuses to eat grain-free food, and it has been known to happen, then an option with grain has also been listed. Huskies are very much like spoiled children, and although you can give them the best food, they will still prefer to eat junk food.
Dog Food Tips
When selecting food for your Husky, you can tell by looking at the ingredient list if it is any good. You absolutely need to have meat as the first ingredient, and preferably a meat that is named. Avoid any food that says "by-products of animals" or "animal protein." These are the dog food manufacturer's ways of describing what is left over after the meat has been harvested from the carcass for human consumption. If it isn't fit for human consumption, then it isn't fit for your Siberian Husky to eat.
Always introduce a new diet to your dog gradually, adding increasing amounts to your dog's old food. A sudden change in diet will cause your dog to get an upset stomach.
American dog food companies are not transparent when it comes to publishing what ingredients they put into their foods. They may have to list the ingredients and nutrients by law, but unlike in Europe, they don't list the percentages of those ingredients on the packaging or on their websites. When a dog food company isn't transparent, you have to wonder what they have to hide.
Acana and Orijen are the exceptions. They are proud of the meat content in their foods and broadcast it loud and clear on the front of their packaging. However, it is not possible to find the quantity percentages of their ingredients listed, unless you look at websites for European dog food retailers.
We have a simple rule for our list of the best foods for Siberian Huskies: if we don't know how much meat is in it, it is not going on the list.
What To Look For When Looking At Ingredients
To demonstrate why it is essential to pay more for a decent brand of dog food, the list of ingredients with quantity percentages is below for the Purina Dog Chow Chicken variety. This is low-priced dog food, which includes grains, and is absolutely not recommended for feeding a Siberian Husky.
Ingredients: Cereals, meat and animal by-products (8%; equivalent to 16% rehydrated meat and animal by-products: minimum 4% chicken), vegetable protein extracts, oils and fats, by-products of vegetable origin, vegetables (dehydrated chicory root 1.1% ), mineral substances. This food has a total of 25% protein and 13% fat.
As you can see, this food contains only 8% of an unnamed, questionable meat source, which they are trying to tell you is the equivalent of 16% if it wasn't in a dry form. It only contains 4% of meat that can actually be called chicken. Just pause for a moment and take that in. This dog food only contains 4% real chicken. For that food to have a total protein content of 25%, there would have to be a lot of protein in the cereals and added oils and fats.
So if this is an example of a bad brand of kibble, what is a good brand?
ORIJEN Dog Original Recipe, 25lb, High-Protein Grain-Free Dry Dog Food
Orijen is the market leader, with the highest amount of protein from named, fresh ingredients. Look at the difference in quality with this list translated from the Spanish Orijen website for:
Ingredients: Fresh chicken meat (13%), fresh turkey meat (7%), fresh whole eggs (7%), fresh chicken liver (6%), fresh whole herring (6%), fresh whole sole (5%), fresh turkey liver (5%), fresh chicken neck (4%), fresh chicken heart (4%), fresh turkey heart (4%), chicken (dehydrated, 4%), turkey (dehydrated, 4 %), whole mackerel (dried, 4%), whole sardine (dried, 4%), whole herring (dried, 4%), red lentils, green lentils, green peas, lentil fiber, chick peas, yellow peas, pinto beans, white beans, herring oil (1%), chicken fat (1%), chicken cartilage (1%), chicken liver (freeze-dried), turkey liver (freeze-dried), fresh pumpkin, fresh butternut squash, courgette fresh, fresh parsnips, fresh carrots, fresh apples, fresh pears, fresh cabbage, fresh spinach, fresh beet greens, fresh turnip greens, brown kelp, whole cranberries, whole cranberries, whole saskatoon berries, chicory root, turmeric, milk thistle, burdock root, lavender, marshmallow root, rose hips. It contains 449 kcal per cup or 3,840 kcal per kg.
Orijen is more than double the price of Purina Dog Chow, but it doesn't contain any grains and has a whopping 85% of meat, fish, and poultry ingredients, with the remaining 15 % made up of fruit, vegetables, and herbs.
Remember, the dubious meat content in Purina Dog Chow was only 16% (to be generous). It is also a dry meal that has already been cooked once and lost some nutrients.
With a high-quality diet like Orijen, you can feed less, and your dog will be much healthier. The recommended amount of kibble to give an active 25kg dog daily is 415 grams with Purina Dog Chow and only 275 grams with Orijen Original. You will also see the difference in your dog's poop, as there will be a lot less.
The total protein content of Orijen is 38% and 18% fat. Purina Dog Chow was 25% and 12%. One way of telling how good a grain-free food is is by looking at the overall protein level, although you need to remember that peas, chickpeas, and lentils are also a source of protein like grains, and take that into consideration.
Orijen is the best kibble alternative to feeding a raw, BARF diet. It contains a balanced mix of meat, organs, cartilage, and bone, allowing your dog to follow a whole-prey diet rich in nutrients.
This grain-free kibble rates 4.6/5 on both Amazon and Chewy.
Reviewers on Amazon and Chewy say the following about this grain-free kibble:
It is expensive but worth it. It smells great and turns my dog into a vacuum cleaner. You can trust Orijen as it hasn't had any product recalls. It made my dog's coat soft and shiny. It is ideal to use when traveling as an alternative to raw. It cleared up my dog's itchy skin and rashes caused by a grain allergy. It doesn't upset my dog's stomach. One reviewer did say that her dog found it too rich, but most reviewers loved the product.

Review
ORIJEN Dog Puppy Recipe, 25lb, High-Protein Grain-Free Dry Puppy Food
Orijen also makes puppy food with similar 85% animal ingredients. It has 38% protein and 20% fat. 3960 kcal/kg, 475 kcal/cup. You can find it here:
ORIJEN® Dry Dog Food, High Protein, Amazing Grains Original 22.5LB
Siberian Huskies don't need to eat grains to be healthy. They certainly wouldn't have encountered corn fields when they were scavenging for food back in Siberia.
If you would prefer to feed your dog some grains, then Orijen does a premium food that includes oats, chia, and quinoa seeds. As with their grain-free kibble, this has the first five ingredients from a fresh or raw source of poultry and fish. It contains 90% premium animal ingredients.
ACANA® Highest Protein, Grasslands, Grain Free Dry Dog Food
If Orijen food is just too expensive for you, then another food to consider from the same manufacturer (Champion Foods) is Acana. You will see from the ingredients listed below that this isn't quite such good quality, which is reflected in the price.
This is the ingredient list for Acana Grasslands, a grain-free food.
Fresh lamb (8%), fresh duck (8%), fresh whole egg (8%), dried lamb meat (8%), dried herring (7%), dried turkey (7%), whole green peas, lentils red, chick peas, fresh pike (4%), raw lamb liver (4%), fresh duck offal (liver, heart, kidney) (4%), fresh turkey (4%), lamb fat (4%), green lentils, pinto beans, whole yellow peas, sun-cured alfalfa, pollock oil (2%), lentil fiber, dried lamb cartilage (1%), raw lamb tripe (1%), brown seaweed, fresh zucchini, butternut squash, fresh parsnips, kale greens, fresh spinach, fresh mustard greens, turnip greens, fresh carrots, fresh red delicious apples, fresh bartlett pears, freeze-dried liver (lamb and duck) (0.1 %), Cranberries, Cranberries, Chicory Root, Turmeric, Milk Thistle, Burdock Root, Lavender, Marshmallow Root, Rose Fruit. 3,405 kcal/kg 388 kcal/cup.
This food contains 33% protein overall and 17% fat. 70% of the ingredients are meat, poultry, or fish, and the remaining 30% are fruits or vegetables. With Oijen, the first five ingredients are from a raw or fresh source. With Acana, it is the first three. So this is still an excellent choice of kibble to feed your dog.
Acana Grasslands scores 4.6% on Amazon.
It smells good, and skin issues have cleared up. This food is awesome with top-notch ingredients. It has fewer peas and legumes than Canidae food, so I prefer it. It cured my dog's itchy, inflamed ear infection in a week when vet treatments failed. I love it, and wouldn't feed my dogs anything else.

Customer Review
ACANA Dog Puppy Recipe, 25lb | Premium High-Protein, Grain-Free Dry Dog Food
ACANA Grain Free Dry Dog Food, Puppy Recipe, 25lb
One (1) 25 lb bag of ACANA Grain Free* Puppy Recipe Dry Dog Food
High protein dog food recipe features free-run chicken and free-run turkey and eggs and is balanced to include 65%** high-quality animal ingredients and 35%*** wholesome fruits, vegetables and nutrients
Acana also makes puppy food. It contains 60% animal ingredients and 40% vegetable, herb, and fruit. Protein is 31% and fat 19%
ACANA® Wholesome Grains Dry Dog Food, Red Meat and Grains, Beef, Pork, and Lamb, Gluten Free
ACANA Wholesome Grains Dry Dog Food, Red Meat and Grains, Gluten Free, Beef, Pork, and Lamb Recipe, 22.5lb
One (1) 22.5 lb bag of ACANA Wholesome Grains Dry Dog Food, Red Meat and Grains, Gluten Free, Beef, Pork, and Lamb Recipe
High protein dog food kibble recipe features farm-raised beef, Yorkshire pork and raw lamb and is balanced to include 60 percent* high-quality animal ingredients and 40 percent** wholesome grains, fruit, vegetables and nutrients
Acana has added a with-grain option to their kibble collection. It still contains meat as the first three ingredients but has added oats and sorghum to the recipe. These ancient grains are high in fiber and gluten-free. This with-grain recipe has ingredients that are 60% meat and 40% vegetables, fruit, and botanicals.
CRAVE Grain Free Adult Dry Dog Food with Protein from Chicken, 22 lb. Bag
A slightly little cheaper grain-free Kibble is Crave. It contains 60% meat products, with a larger quantity that has been dehydrated, compared to Origen and Acana.
Chicken: Composition: minimum 60% from animal sources: Chicken 34% (of which dehydrated chicken protein, fresh chicken (13%)), turkey 16% (dehydrated turkey protein, hydrolyzed turkey), poultry meat (12 %), poultry fat, dried poultry protein, pea starch, potato flakes, lentils, pea protein, dried beet pulp, tapioca starch, minerals, sunflower oil, dried apple pulp, rosemary extract
Crave scores 4.7 on Amazon.
Crave was great for putting on muscle tone and weight. His digestive system is better, and he doesn't scratch anymore. Crave is the most budget-friendly dog food I've found. My Yorkie and Chihuahua love it as it has little pieces. Our fussy Great Dane wouldn't eat anything but liver sausage, but she will eat this.

Customer Review