Takeaway Points
Providing veterinary care for your pet can be costly and unpredictable.
Pet insurance helps you limit many of these costs so you can better budget your pet expenses.
Coverage varies from accident-only to comprehensive care, and policies include different deductibles, exclusions and claims procedures.
These 10 questions to ask pet insurance companies will help you learn everything you need to know before you sign up for a policy.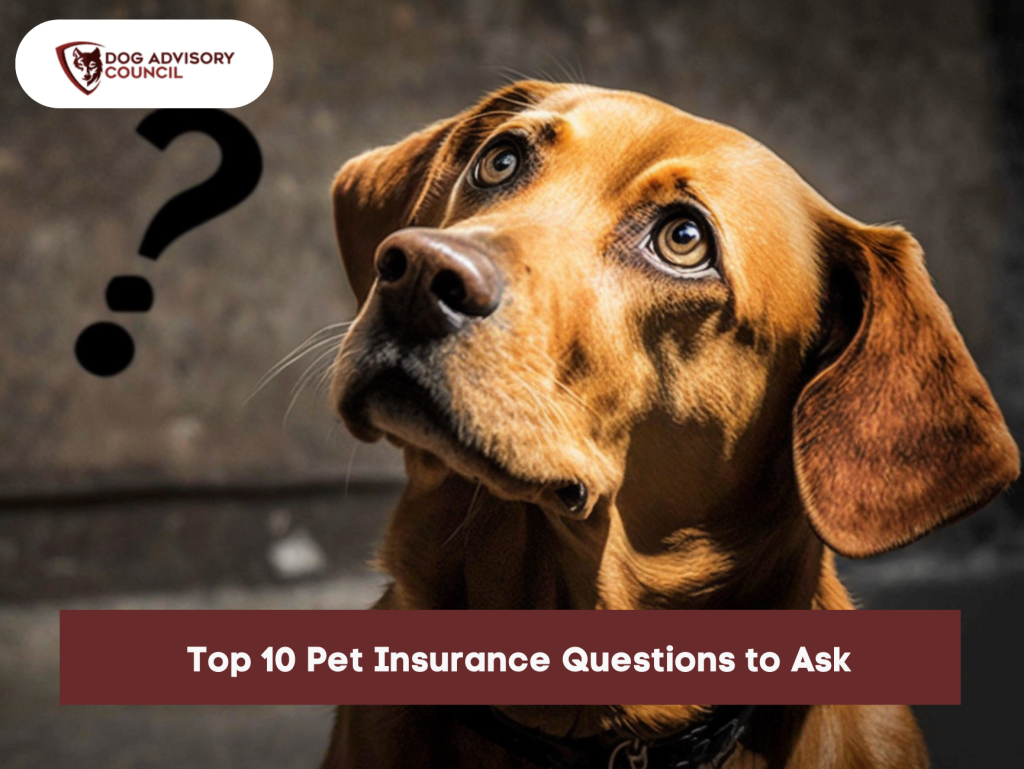 Caring for a pet can be an expensive proposition. Just as your own medical needs are difficult to forecast, the health concerns and health expenses of your dog are challenging to foresee.
Pet insurance can take the guesswork out of planning for your pet's medical expenses, bringing peace of mind and predictability to your budget. But many pet owners aren't familiar with pet insurance products or how to shop for them. It all comes down to knowing the right pet insurance questions to ask, and we'll cover some of the most important ones here.
Pet Insurance Basics
Pet insurance is health insurance for your pet. It can cover only medical expenses resulting from an accident or provide comprehensive coverage for routine vet visits, treatments and surgeries. Many policies include some features similar to what you'd find in human health insurance coverage, such as deductibles, coinsurance and coverage limitations.
Like your health insurance, pet insurance is designed to help with the costs of medical care by covering a portion of your expenses. And those costs can be significant — according to the Insurance Information Institute, an average routine visit can run $242 for a dog and $178 for a cat. The average surgical visit costs $458 and $201, respectively.
For a set monthly or annual premium, pet coverage helps you make those bills a bit more predictable. A typical full-coverage policy for a dog costs $49 per month, while the same policy for a cat would run you around $29 per month.
10 Questions to Ask a Pet Insurance Company Before Buying Coverage
Once you've decided you want to purchase coverage, you may be surprised — and a bit overwhelmed — by how many pet insurance companies and coverage options there are. To help you whittle down your choices and find the right fit, here are 10 questions to ask pet insurance companies.
What does the policy cover?
Pet insurance policies come in two basic forms: accident-only and comprehensive. An accident-only policy covers veterinary care for accident-related injuries such as animal bites or poisoning. Comprehensive coverage includes accidental injuries but also covers care for other emergencies, chronic issues, infections, diagnostic services and more.
Specific policies may include additional details or optional add-ons. Be sure to find out everything that's included so you can clearly compare policies when you're shopping.
Are there any exclusions or limitations on coverage?
Each policy has its own set of exclusions or limitations on coverage, so it's important to know what services you'll still need to pay for out of pocket. Many pet insurance policies exclude coverage for pre-existing conditions or certain genetic issues. If your pet is at risk of specific conditions that could require regular or costly care, be sure to look for policies that include some level of coverage for these.
Can I choose my own vet?
Pet insurance isn't usually restricted to specific provider networks, which means you can often choose your own vet. Instead of paying your vet directly, your insurance company will typically reimburse you a set amount (more on that below) for specific services. These details vary by insurance carrier, however, so be sure to ask any company you're considering how this works.
Does the policy have a deductible, and if so, what is the amount?
Like traditional health insurance, pet insurance plans usually include a deductible — the amount you're responsible for paying before your insurance kicks in. You may be able to choose a lower deductible, but keep in mind that this will probably increase your premium.
Does the policy have a maximum payout limit per incident or per year?
Many pet insurance policies set a per-incident, per-illness, or annual cap on what they will cover for specific illnesses or incidents. Some policies even include a lifetime limit. Others, like Healthy Paws or Trupanion, have no caps on coverage. When you're choosing pet insurance, consider the total long-term costs of care for your pet, especially if you're paying for coverage that could be maxed out at some point.
Are there any discounts available?
In some cases, you may be able to take advantage of discounts to lower the cost of pet insurance coverage. For instance, some insurers offer discounts for covering multiple pets. Other providers offer discounts if you bundle multiple types of policies, such as your homeowners and auto insurance, with pet coverage.
Are there any waiting periods before coverage begins?
Pet insurance policies typically include a waiting period after you enroll, during which coverage won't apply. For instance, if your policy has a 14-day waiting period, you won't be able to submit claims for any illnesses or accidents that occur during the first 14 days after you enroll.
These waiting periods are typically defined differently for accidents and illnesses. Trupanion, for example, has a five-day waiting period for accidents and a 30-day waiting period for illnesses. Other policies may define special waiting periods for other types of care.
How does the insurance company determine reimbursement amounts for covered expenses?
Unlike traditional health insurance plans, most pet insurance plans are reimbursement based. That means you'll pay for vet visits upfront and then submit claims for reimbursement. When you submit the claim, your insurance carrier will evaluate the service your pet received and determine how much to reimburse you.
Usually, the amount you received is based on the type of deductible or coinsurance you chose. If you have a 40% coinsurance plan, for example, you should receive reimbursement for 60% of the cost of service. However, there may be additional terms based on exclusions or coverage limits in your policy.
What is the process for submitting a claim?
The claims process can vary widely by insurance company, and this can make a significant difference in your experience as a policyholder. Some companies require you to print and fill out forms and scan receipts, while others offer simple mobile claims submissions.
Can the policy be canceled or non-renewed, and if so, under what circumstances?
Pet insurance policies typically renew automatically each year. However, if you haven't paid your premiums or have violated policy terms in some way, your insurance company may reserve a right of non-renewal. State laws usually require insurers to provide you with a minimum period of notice — say, 90 days — before canceling your policy. Ask your potential insurance carrier this important question about pet insurance non-renewal, including any limits on your own rights to cancel your coverage.
Be Confident in Your Pet's Coverage
Your pet becomes an integral part of your family, and you may consider their medical needs just as much as your own or those of others in your household. Pet insurance can provide you with financial peace of mind and confidence that your pet will be able to get the care they need. Asking these important questions about pet insurance will help you ensure that coverage meets your expectations.